April 25, 2012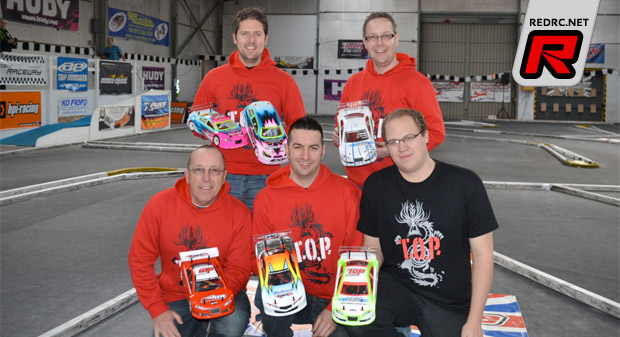 Ardent Raceway was the host for the first round of the Super Production Cup on 22nd April, around 55 entrants were spread across the 5 classes. In the Mini Open class there was a total of 14 drivers consisting of drivers from Dorset model car club, Essex and Chippenham. Mark Williams, Stuart Parnell, Bob Styles, Tim Woron, Stuart Webb and Kevin Hunt were all running the Top Mini Sabre, in fact out of the 14 entrants only 3 weren't Sabres.
Mark continued his excellent form off the Chippenham Winter Series win by setting TQ in every qualifying round. Stuart had Transponder issues in the 1st 2 qualifiers which left his last qualifier as an all out run to make the A. Putting in a 20 lapper, just missing out on a 21 lapper by 4 tenths, Stuart placed 3rd on the grid behind Craig Summers and TQ man Mark Williams both with 21 lappers. Tim Lined up 5th on the Grid with Bob 6th.
The Finals saw Mark lead from start to finish, in the 1st A Stuart made a good start to close on Craig from the off and a roll from Craig coming onto the main straight on the 1st lap let Stuart through. Unable to close the gap on Mark Stuart finished 5.5 seconds behind Mark. The 2nd final was a bit scrappy, another good start from Stuart closed on Craig straight away but got punted round and was last on the 1st lap. Mark lead the final winning by a comfortable margin with Stuart making it upto 4th by the end of the final. So with two wins Mark leads the Championship with a 3 way tie for second which is where Stuart is placed. A strong showing by all the Mini Sabres, and a big thank you to Martin Reeder the organiser and John Dawson for running the meeting. Next round is at Colchester on the 12th of May.
Source: TOP [top-racing.jp]
---