July 11, 2012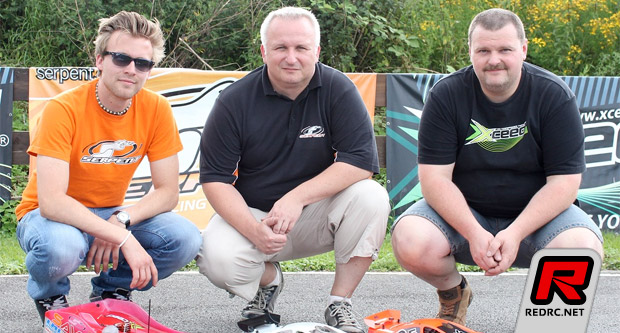 Hildesheim was location of penultimate round of the North German championships last weekend and Andreas Giesa produced this report. "Unfortunately the weather forecast was not good for this weekend and rain was expected. We started practice under dry conditions on Saturday morning and with my setup, which worked well last race in Braunschweig. There were only a few changes needed to adapt the 747 on this track. I used both shock and ARB extensions this time and got more steering on throttle and in fast corners and again the Xceed Spark body.
The weather changed after the lunch break and we had a massive thunderstorm with a lot of rain, but the track was drying fast and we could run with some delay the 1st heat for this day in late afternoon. I started this heat, but my engine was a little bit too rich so when I got on straight in last lap, I run out of fuel. We restarted and finished with a long last lap of 42 seconds and 4th place in overall ranking.
Sunday morning was still dry and heat round 2 was started. Finally my best run was last one. I got TQ with the only 20 laps run this day. Jürgen Hennemuth with his 747 managed to get 3rd in qualification with a gap of 7 sec behind me. The 1:8 class was an only battle between Merlin Depta with his 966TE and Lars Hoppe, who made TQ in the end with a gap of 3 sec.
The finals were started after lunch break, but again like Saturday it started raining just in the middle of the first semi final. Jürgen and I were in 2nd semi final under complete wet conditions, but we got it into the main final. Same conditions for Merlin and Lars, but both made it also into the final.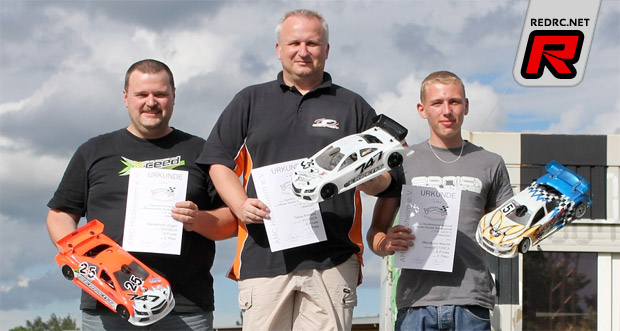 In the 1:10 final I started from 10 and after 8 laps I was already on 2nd place and taking the lead, when something locked the drive train. We do not know until now, what happened but suddenly drive train was running free, but I was down on 6th place. I came in for first pit stop back on 4th, but coming out of pit lane my engine flamed out and again down on now 8th. 25 minutes to race and a 747, which was really good in the final and easy to drive also with bigger tires, the challenge started again. 2 minutes to go, 2nd place and I was just catching up my teammate and leader Jürgen Hennemuth, he made a small mistake and the lead was mine until the end.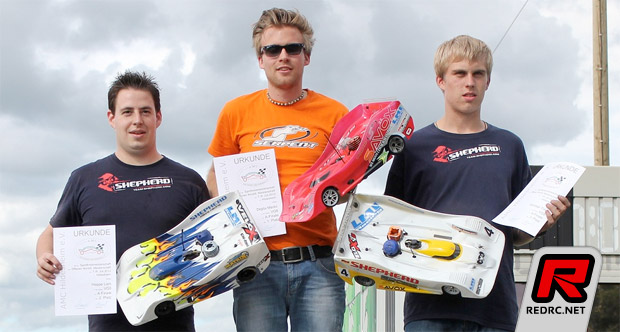 In the 1:8 final it was again a battle between Merlin Depta and Lars Hoppe. Lars started from first position, but Merlin was chasing him hard and taking the lead after his first pit stop. In the end Merlin drove his Max powered 966TE to his second victory in a row in front of Lars Hoppe and Timo Schröder. Now he has a good chance to win the overall title with 2 wins with Hoppe and Schröder only having 1."
Source: Serpent [serpent.com]
---