November 6, 2012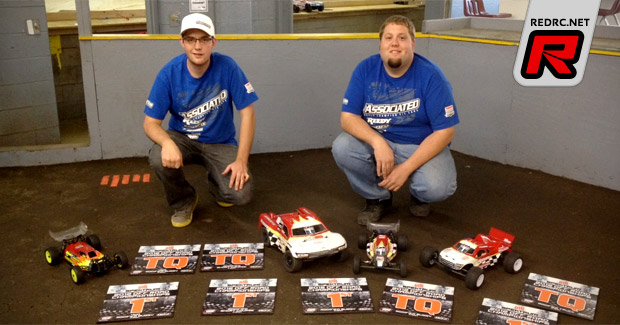 Each year Scotty Ernst Productions along with the famous Spektrum radio system brand bond together for an incredible event. 326 entries made up one of the best events to date as Scotty moved through the races as only the he can. The modified classes were once again hotly contested and Team Associated / JConcepts drivers Chad Due and Kody Numedahl were at the top of the field each round during qualifying. With the grippy JConcepts blue compound Bar Codes providing the traction, some of the best drivers in the business battled for 4 rounds of qualifying.
At the end of qualifying Chad Due reigned supreme by placing himself in the TQ position in 2wd buggy, Racing Truck and 2wd SCT modified. Kody Numedahl with the freshly released, JConcepts equipped B44.2, took the all important TQ in the 4wd modified class. With Mike Truhe, Steven Just and JP Richards all in attendance the main events were surely no easy task for the quick AE duo.
During the main events the TQ drivers dominated. Chad Due with his freshly prepped AE vehicles out matched everyone in 2 straight mains to take the 2wd modified and modified truck classes in convincing fashion. With all the local support and confidence, Chad patiently awaited the 2wd Short Course A-main to see if he could sweep the event for the first time ever. Teammate Kody Numedahl took care of business in the 4wd modified A-mains by racking up 2 quick A1 and A2 victories to seal the deal very early as well.
All eyes were on the single 7 minute 2wd SCT modified A-main. With everything on the line it was a barn burner between the top 3 drivers. Chad Due who recently took the 2wd and Racing Truck A-mains looked confident early on but the Richards brothers (JP and Dustin) would not go away very easily. The 3 JConcepts drivers looked untouchable while freight-training around the track for several minutes but in the end Due's speed was too much and he took a comfortable 2 second lead and the overall victory. JP Richards finished 2nd and Dustin Richards 3rd.
Source: JConcepts [jconcepts.net]
---