November 20, 2012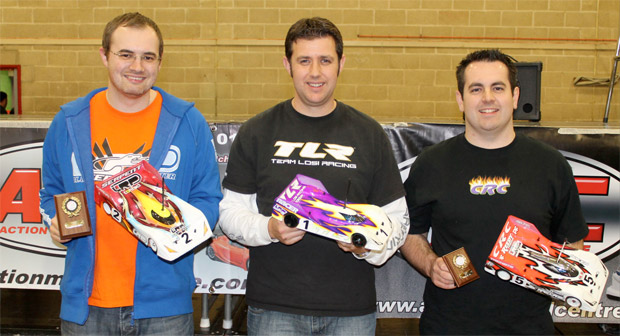 Horizon Hobby UK's David Spashett continued his dominant start to the 2012/13 BRCA 1/12th Scale Nationals by winning both the stock and modified classes at round 2 of the championship. David looked to be in imperious form and cruised to TQ in the 10.5 blinky stock class on Saturday driving a chassis that he has had designed and manufactured himself using Associated suspension parts. At times the Serpent S120 LTX of Chris Kerswell looked like mounting a serious challenge, but despite showing good pace Chris was unable to topple David from the top spot. Mick Farrell was driving the new CRC Xti for the first time at this event and lined up 3rd on the grid ahead of the Associated of Matt White and Mark Stiles, also driving a CRC Xti. Mark looked to have 3rd in the bag during the last qualifier but a late tangle with a back marker dropped him to 5th in the qualifying list.
The front of the final was all about David and Chris. David led the race from start to finish, but Chris was always lurking not too far behind ready to pounce if an opportunity arose. Mark passed Mick and Matt early in the race and had a lonely run to 3rd, being the only other driver to remain on the lead lap. The top 3 all used the new LRP Flow works team speed controller, with David and Chris running Dynamite motors and Mark Reedy Electrics.
In the 17.5 blinky class, former stock British Champion Keith Robertson returned to the 1/12th scale nationals to take tq ahead of Andy Sawyer's Corally and the Serpent of Gavin Clinch.  In the final an early mishap by Keith allowed Andy into the lead. During the race, Keith slowly closed the gap but it looked like he would run out of laps. However, Andy clipped a track marker less than half a lap from home, allowing Keith to sneak through and take the win! Keith was driving an out of the box Associated 12R5.2 that he had built the week before the event, proving that 1/12th scale cars boast national winning performance straight out of the box. Keith used a Novak Kinetic speed controller and Reedy motors and batteries.
The third class being run on Saturday was GT12; a class that has emerged in the UK over the last 18 months. The cars raced here are simplified versions of 1/12th scale racers aimed at entry level racers or those on a budget, with rolling chassis kits having to cost under £100. Adam Catchpole dominated the first round of the championship and he continued his winning streak at round 2; tq and a comfortable win driving a Mardave VRX chassis. Schumacher employee Chris Ashton qualified 2nd driving the Supastox chassis that is manufactured by his employer, but during the final he had a coming together when trying to lap his boss Robin Schumacher, allowing Paul Upton to sneak through and take 2nd place by just .18 of a second.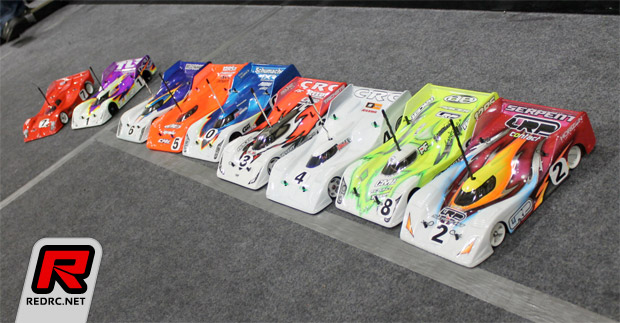 On Sunday the fast motors come out to play in 1/12th scale modified, and once again it was the former world champ who dominated proceedings. TQ and an easy win in the final made it 4 out of 4 for David Spashett. Chris Kerswell qualified 2nd again, 2 seconds ahead of Mark Stiles who is getting quicker with each run he does with his new CRC. Chris held onto second in the final despite being passed by Mark in the early stages. Mark was forced to retire after 12 laps following a spectacular backflip on the straight that left his centre shock detached. Mick Farrell drove a solid race with his HPI powered CRC to finish on the podium for the second modified national in a row.
In the 10.5 sport class, Daniel Holmes took pole for the A final with his V-Dezign CR5 chassis, but he struggled to settle into a rhythm during the A final, allowing Jim Spencer to back up his impressive 4th place in stock on Saturday with a win in the sport class. David Gale finished 2nd ahead of Daniel Holmes.
GT12 was filled with excitement this time round. Despite an easy tq, Adam Catchpole wouldn't have it all his own way in the final as he rolled and allowed Chris Ashton to take the lead. Despite a spirited drive Adam was unable to close the gap sufficiently and Chris took the Schumacher Supastox's maiden win at BRCA national level. Mark Jewitt completed the podium driving a Mardave chassis.
This event marked the biggest entry seen at a BRCA 1/12th scale national for more than 15 years, with over 100 drivers competing on each day. It seems that the class is going from strength to strength and it looks like reserve lists will have to be used at subsequent events. Round 3 of the championship takes place at Tamworth on 8th/9th December, so enter now to avoid disappointment!
Source: BRCA [brca.org]
---