November 20, 2012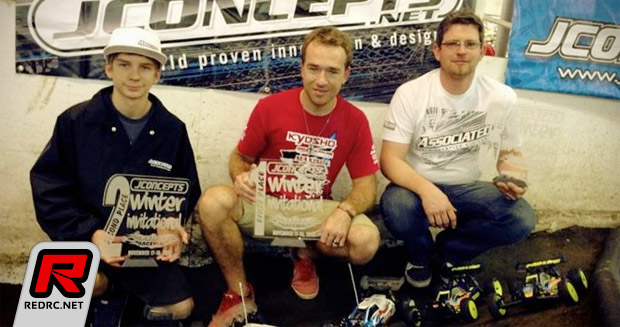 The JConcepts Winter Indoor Shootout was held this past weekend at Fastlane R/C Raceway in Kansas City, MO. This would be the home track for Kyosho/Team Orion's Jared Tebo. For this event, Tebo designed the track layout and helped with track maintenance all weekend long. This years event brought in an impressive 248 entries. In the Modified Truck Class, it was Kyosho/Team Orion's Jared Tebo who would dominate qualifying by TQ'ing all 4 rounds to take the overall TQ.
A 10-Minute A-Main would be ran to decide the champion. Tebo would lead every lap in the Main Event and take the Modified Truck Championship with his Team Orion powered Kyosho RT5-SP.
Modified Truck Top 3 Overall:
1. Jared Tebo (TQ) – Kyosho RT5-SP
2. Nick Gibson – AE
3. Cody Hollis – TLR
The premier class of the weekend was Invitational 2wd/4wd Modified Buggy. Saturday would consist of 5 rounds of heads-up racing first with 2wd Modified Buggy. Then Sunday 5 more rounds would be raced with 4wd Modified Buggy. Each driver would use their 4 best finishes from 2wd and 4wd with 8 races counting. The points would then be added up and the driver who had the lowest point total would be the Champion.
On Saturday, Tebo's RB6 was dialed in. Tebo would go onto win 4 out of the 5 races, this giving him a perfect score for the first day. On Sunday, Tebo would put on a clinic with his Lazer-SP and win all 5 races convincingly. Tebo would take the Overall Invitational Championship with a perfect score of 8.
Invitational 2wd/4wd Modified Buggy:
1. Jared Tebo – Kyosho RB6 / Kyosho Lazer-SP
2. Nick Gibson – AE
3. Chad Parks – AE
Source: Kyosho [kyoshoamerica.com]
---