December 12, 2012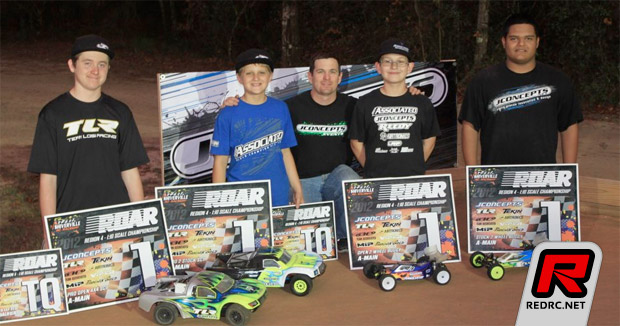 The 2012 ROAR Region 4 Off-road Championships were hosted by the ever increasingly popular Shiverville R/C Raceway in High Springs, FL. The Shiverville track crew once again went all out with an amazing layout and easily the smoothest outdoor surface to date. With ROAR events losing a bit of their luster over the past few years, Shiverville Raceway stepped up to the plate and brought back that "BIG" race feel. The race consisted of best 2 of 3 rounds of qualifying, triple A-mains, and a free raffle that rivaled some National events.
Qualifying was very successful for JConcepts and showed a mix of Veterans and Young guns at the top. The 2wd stock buggy and 2wd stock SCT classes had 10 year old Austin Venezia taking his JConcepts equipped B4.1 and SC10FT straight to the top and the overall TQ in both classes. The 2wd Mod buggy class saw the Veteran Paul Wynn from JConcepts put his Team Associated B4.1 in the TQ position. The fastest class of the weekend was dominated early by JConcepts driver Brett Kingsbury taking the TQ position in the 4wd Mod buggy class with his brand new B44.2. Another young gun showed the way in the 4×4 Mod SCT class as JConcepts driver Chris Viesins took the TQ with his Losi SCT-E.
The mains were very exciting for some Young Guns and JConcepts as they went on to take some big wins. The 2wd stock SCT class ended with JConcepts/Team AE driver Austin Venezia taking his first regional title, followed closely was JConcepts driver Tracy Carver, and rounding out the top three was Travis Adams. The 2wd stock buggy class came down to the last main between two good friends; 15 year old privateer Jovan Cruz and Austin Venezia. Austin won the final main forcing a tie; but it was Jovan winning the tie-breaker and the overall win with his JConcepts equipped TLR 22 for his first Regional title. Another young gun decided to shake-up the 2wd Mod buggy class as 12 year old Daimon Borkowicz stayed smooth and consistent taking his first overall Regional title with his JConcepts equipped B4.1. Rounding out the top 3 was Paul Wynn in 2nd and Ryan Eckert finishing 3rd. The 4wd Mod buggy class had Daimon stepping up his game once again by forcing TQ holder Brett Kingsbury to a 3rd and final A-main showdown; but the veteran Kingsbury held his ground for the overall win. The 4×4 Mod SCT class was dominated by TQ holder JConcepts driver Chris Viesins as he went on to win his first Regional title! Rounding out the top 3 had Jonas Lazar 2nd and Mark Soliman 3rd.
JConcepts would like to personally thank track owners Ken & Cheryl Shiver for hosting such an amazing event at their private track and their amazing hospitality! Also have to give the Shiverville R/C Raceway crew a big shout out for an amazing track; Ken Shiver, Ben Newsome, Jimmy Sands, Jeff Brown Sr, and anyone else who pitched in. Also special thanks to Brian Lewis and family, Lance McDonald (race director) and family for all their help and support of Shiverville Raceway.
Source: JConcepts [jconcepts.net] / Photo: Cheryl Shiver
---