January 31, 2013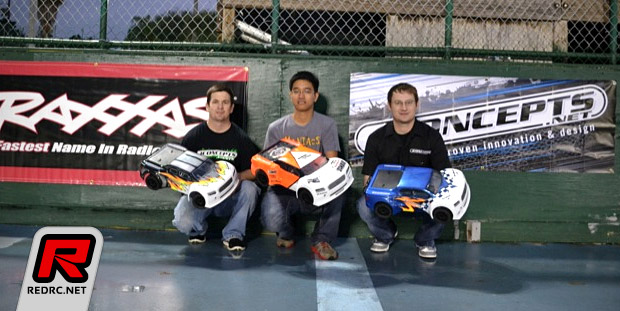 Village Raceway in Royal Palm Beach Florida along with JConcepts debuted a new, one of a kind racing event recently featuring the new Scalpel conversion for the Traxxas Slash 4×4 and Rally 4×4 vehicles. Racers were on their A-game taking their vehicle setups seriously trying to find that magic setup to put them in the top spot. It wouldn't be a South Florida R/C event without rain, right? Well, even the Scalpel Grand Prix is not exempt from Mother Natures' watermark. After an hour rain delay, track crew and racers got busy drying the track.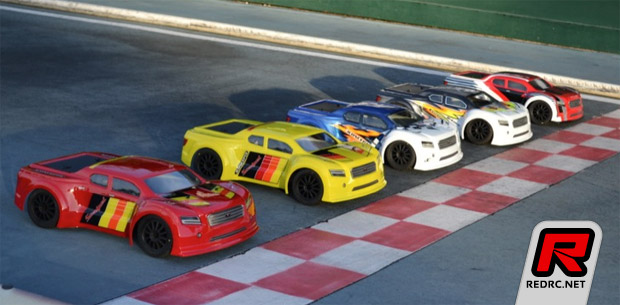 First up in the Show n' Shine competition, drivers had a chance to show off their freshly painted rides with hopes of having a paint scheme to win over the judges. Daimon Borkowicz took home the gold for his original paint scheme. Paul Wynns' original paint scheme took the second place medal and third place medal went to Fred Reep with a paint scheme inspired by the APR Motorsports Audi R8 Grand Am race car.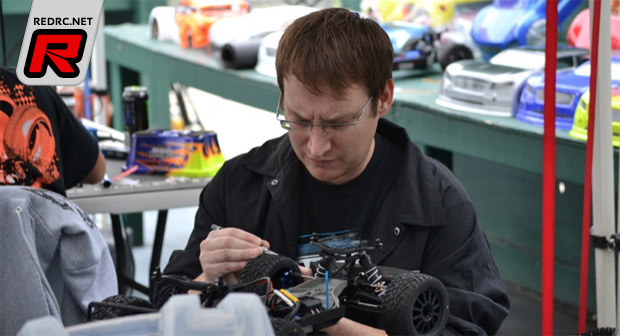 Round one qualifying put Paul Wynn in the top spot with 15 laps / 5:17. Jason Ruona took the second qualifying spot at 14 laps / 4:51. Felix Law took third with 14 / laps 4:52. With round one in the books driver's went right back to the pits for some more serious wrenching. Round two Felix Law laid down the Law with a run of 15 laps / 5:06 taking the TQ away from Wynn. Ruona would take the second fastest run with 15 laps / 5:14. Wynn took the third place spot with 15 laps / 5:14
Unfortunately Mother Nature made her presence known once again cancelling the A-main event.
Finishing order was as follows:
1. Felix Law
2. Jason Ruona
3. Paul Wynn
4. Bob Husted
5. Daimon Borkowicz
6. Tim Potter
7. Austin Venezia
8. Dave Duncan
9. Kenny Pancake
10.Chris Viesins
Rain may have cancelled A-main circuit racing, but it wasn't enough to cancel the RCMM LiPo drags. Everyone made their way out to the parking lot to participate in high voltage side by side, heads up drag racing. The wet weather put the driver's skills and equipment to the test. Drivers lined up side by side laying down pass after pass tweaking their machines in between runs trying to lay down the fastest run of the day. JConcepts' Rich Muller took home the gold with the fastest truck of the event with a top speed of 52.74 MPH! Shawn Steele, a highly dedicated R/C Drag Racer took home the gold and a Traxxas DTS-1 Drag Race Timing System for his performance and dedication to R/C Drag racing. Shawn's super modified Traxxas Rustler laid down fast passes in the Unlimited class topping 47 MPH down the 132' 1/10th scale quarter mile.
Thanks to Tim Potter of Village Raceway for hosting the first ever JConcepts Scalpel Grand Prix. We would also like to thank Bob Husted for all of the hard work getting all of the track prep and maintenance done throughout the event.
[youtube]http://www.youtube.com/watch?v=1sRsdrDMlCU[/youtube]
Don't miss the next Scalpel race…
Get ready! April 20, 2013, JConcepts will be joining forces with Superior Hobbies and taking part in their pre-State Series club race with the addition of Scalpel Circuit Racing which will be included in the existing on-road parking lot program. The Saturday club race in the parking lot at Superior Hobbies located in Casselberry, FL on Hwy 436 will prepare drivers for Sunday's State race.
Join JConcepts and Superior Hobbies again on Sunday, April 21, 2013, for the FSEARA (Florida State Electric Auto Racers Association) State Series Race. JConcepts Scalpel Classes have been added to the roster for the FSEARA State Series program at Superior Hobbies. After the Scalpel Grand Prix was held at Village Raceway in January, Scalpel Circuit Racing will now offer a Modified class in addition to the Stock class for the Scalpel Grand Prix (Circuit Racing). Modified class drivers will be able to change the speed control and motor combination to greatly enhance drivability performance on the on-road racing circuit.
Stock and Modified classes will be offered on the April 20th and 21st race dates at Superior Hobbies. Run one day or both events. These 2 classes will be run in conjunction with the Superior Hobbies Club race and the FSEARA State Series regularly scheduled on-road racing program. Drag racing will not be available at this event.
---