January 22, 2013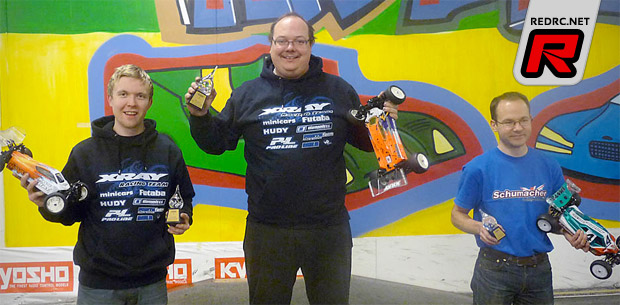 The Xray XB4 made its first appearance in the VBC cup through Mats Angseryd and Lukas Jerresand. The race was held in Eskilstuna Sweden on a tight medium grip carpet track. The day started out in the best possible way with Team Xray Sweden Mats Angseryd leading the field after the first qualifier ahead of Schumacher driver Christer Carlsson and Daniel Björkquist, and on fourth place was XB4 local driver Lukas Jerresand. Normal quick driver Niclas Månsson for Team Associated was looking as quick as ever but had some trouble and had to sit Q1 out after 9 laps due to breaking a front suspension arm. Qualifying would eventually end up with Mats Angseryd as the TQ after winning 3 of the 4 qualifiers, and Angseryd also was the only one in the field reaching 24 laps, and Lukas Jerresand on 5th putting two XB4 in the A-main.
A-main leg 1 started dramatically for Angseryd who got stuck in traffic on the second lap and tumbled down all the way to last position, Angseryd however was not going to give up that easily and quickly raced through the field to end up at first place one lap ahead of second place Lukas Jerresand and his XB4.
A-main leg 2 went on as planned for Angseryd, he could cruise to an comfortable win with a two lap lead down to Christer Larsson. Lukas Jerresand failed to finish due to a broken outdrive.
A-main leg 3 Lukas Jerresand needed to end up at least in second place to make the overall runner-up after Angseryd. Starting from fifth in the field it looked like a tough challenge, but on the last lap he made the pass from third place to second after a traction roll from Albin Tärning. Leg three was won by Niclas Månsson, Lukas Jerresand second and Albin Tärning third.
Overall results:
1. Mats Angseryd
2. Lukas Jerresand
3. Christer Carlsson
Source: Xray [teamxray.com]
---