January 30, 2013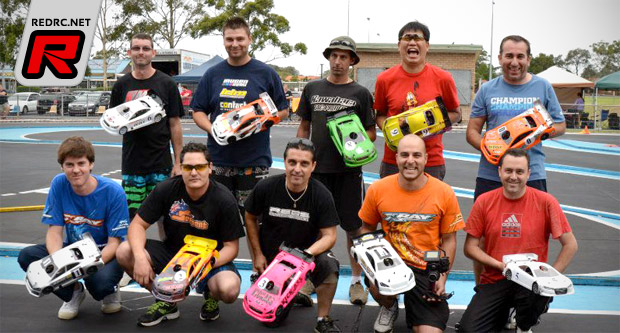 The Racing Lines Summernats is held every year towards the end of January at IMCC's track in Wollongong New South Wales Australia and Tim Lee sent this report. The format includes practice Friday, nitro racing on Saturday and EP classes on Sunday. The track is one of the most flowing technical layouts around and always attracts a good entry list and makes for close racing. Entry numbers were quite high this year and it was great to see a lot of new faces. In nitro there were close to 50 entries over the open and pull start classes meanwhile in EP there was close to 100 entries spread over F1, 1/12th scale, 21.5, 17.5 and modified.
The Friday practice day this year was met with a record breaking heat wave, by 9am the air temperature was around 35C and by around mid day the temp gun was reading 48-50C in the shade! The heat kept most away, and those who stayed were limited to very short runs to avoid electronics damage. The heat and wind made for very low traction and the cars were very difficult to drive. Most just used the day to re-learn the track, knowing the conditions were forecast to be much cooler for the weekend.
Saturday nitro:
On Saturday the conditions were much cooler, overcast with some occasional drizzle. The morning warm up was the first real test for setup and engines with such a change in conditions from the practice day. All the cars were looking much better straight away, I had made some changes overnight just to smooth the car out a little as I knew the track would not have as much traction due to the low number of cars circulating on Friday. I thickened the shock oil from 400cst to 450cst and I increased the front track width from 196 to 198 to match the rear. This calmed the car down initially and made it easier to keep the corner speed up while sacrificing a little bit of steering.
Nitro qualifying:
Throughout qualifying the car performed really well and I was satisfied with the balance. I didn't make any changes apart from fine tuning the diameter of my Matrix tyres and adjusting the camber to ensure the tyres were wearing flat. I had some close battles with Aaron Lee for TQ but in the end I was able to take the TQ by around 3 seconds.
Qualifying result:
1. Tim Lee – Xray NT1 Pro
2. Aaron Lee
3. Alex Koussas
4. Ari Bakla – Xray NT1 Pro
5. Cory Ventouris – Xray NT1 Pro
6. Michael Stone
7. Kane Alderton
8. George Karozis – Xray NT1 Pro
9. Tommy Lee – Xray NT1 Pro
10. Andrew Bardetta
For the 20 minute final I was confident that if I could get away at the first corner I could pull away and maintain a gap. Off the line I got away cleanly and Aaron had a bad start dropping back to fifth. He eventually made it back to second and I pushed until I heard that the gap was out to 9 seconds, I just controlled the gap and drove conservatively from there. At about 2/3 race distance Aaron had a big crash while lapping traffic and damaged his car. From there the race order did not change and continued that way for the remaining minutes.
Final result:
1. Tim Lee – Xray NT1 Pro
2. Ari Bakla – Xray NT1 Pro
3. Cory Ventouris – Xray NT1 Pro
4. Kane Alderton
5. Alex Koussas
6. Andrew Bardetta
7. George Karozis – Xray NT1 Pro
8. Michael Stone
9. Tommy Lee – Xray NT1 Pro
10.Aaron Lee
Sunday EP:
On Sunday the weather was perfect, mild temperatures, overcast to begin with clearing throughout the day with no rain in sight. The traction was quite good except for the centre chicane which is not used for nitro and so didn't have as much rubber down. Especially due to the low amount of cars running through there on Friday.
In the Stock class Damien Zarb always looked like the one to beat with his T4, taking the first qualifier by some margin and taking the TQ even after some unlucky mistakes in round 2 and 3. Gavin Hatherly and Nathan Reese qualified second and third with their T4's after tying on points with Gavin having the faster 6 minute run. Stewart Grant made a rare appearance with no practice taking his T4 to fourth on the grid, after not racing electric since the T2 he was impressed with the grip and steering of the T4.
Stock Qualifying:
1. Damien Zarb – Xray T4
2. Gavin Hatherly – Xray T4
3. Nathan Reese – Xray T4
4. Stewart Grant – Xray T4
5. David Harris – Xray T4
6. Alex Ilievsci – Xray T4
7. Deniz Demarco – Xray T4
8. David Mcinerney – Xray T4
9. Phillip Merrick
10.Matthew Barham
In the finals Damien upped the pace even further cutting his lap time down to a 13.3, the fastest lap of the weekend in stock. The pressure in the first leg was off as Gav jumped the start, but was back on again shortly as the result went down to the third leg. After the usual stock final pileups Damien took the win in the final race to secure the overall win with Stewart Grant and Nathan Reese completing the top 3.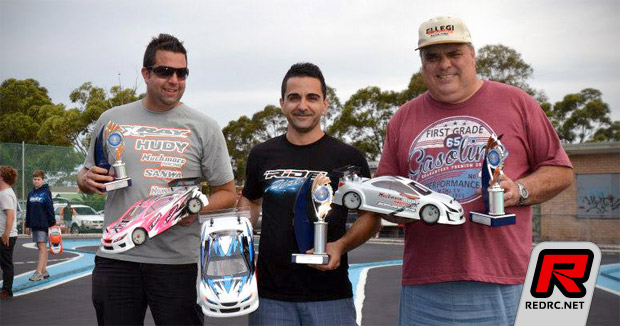 Stock Final result:
1. Damien Zarb – Xray T4
2. Stewart Grant – Xray T4
3. Nathan Reese – Xray T4
4. Gavin Hatherly – Xray T4
5. Alex Ilievsci – Xray T4
6. Phillip Merrick
7. Deniz Demarco – Xray T4
8. David McInerney – Xray T4
9. Mathew Barham
10.David Harris – Xray T4
In modified once again the T4 was the car to have. I was happy with the performance of my car during qualifying and tried a few different setup changes but could not imProve my car and so reverted to what I began with. Ari Bakla was looking very fast with his T4 but was still dialing in the balance of the car a little more to his driving style whilst on new tyres.
Modified qualifying:
1. Tim Lee – Xray T4
2. Ari Bakla – Xray T4
3. Craig McPhee
4. Mark Wallin – Xray T4
5. Michael Stone
6. Jon Philpott
7. Paul Smith – Xray T4
8. Jeffery MacKie
9. Beth Cullen
10.Brian Malaquin – Xray T4
In the first final I mad a mistake touching the inside barrier on the third corner running through the dirty infield, I then couldn't get the car turned in to the next corner so Ari and Craig got past. Ari was leading for a few laps and pulling away while I was trying to pass Craig until in a turn of bad luck his body became hung up on the rear tyre at the first corner without even touching a curb. The marshal took a long time to realize what was wrong and by then he had lost over half a lap. I then tried to pass Craig many times but was waiting for the right time, I eventually got past at the first corner but then Craig had the inside for the next corner and re-passed as the cars touched. Right after that he made a mistake and rolled it at the hairpin and I was able to easily pull away for about two laps until a car that was multiple laps down spun in front of mine. The crash pressed the front of the body in at the nose, making it scrape badly making it very hard to drive. I was able to finish just in front of Craig.
The next two races weren't so eventful, there were perfect starts and I finished about 2 seconds in front of Ari with a further 5 seconds or so back to Craig.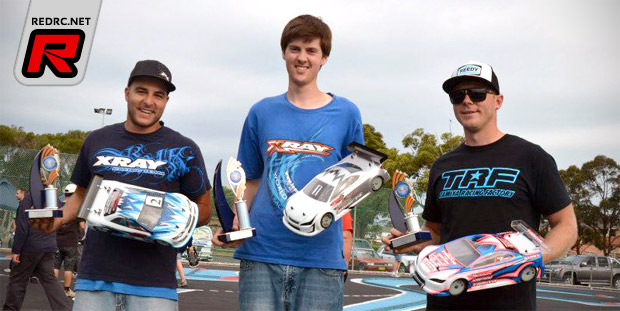 Modified final results:
1. Tim Lee – Xray T4
2. Ari Bakla – Xray T4
3. Craig McPhee
4. Mark Wallin – Xray T4
5. Michael Stone
6. Jeffery MacKie
7. Jon Philpott
8. Beth Cullen
9. Paul Smith – Xray T4
10. Brian Malaquin – Xray T4
Source: Xray [teamxray.com]
---