February 18, 2013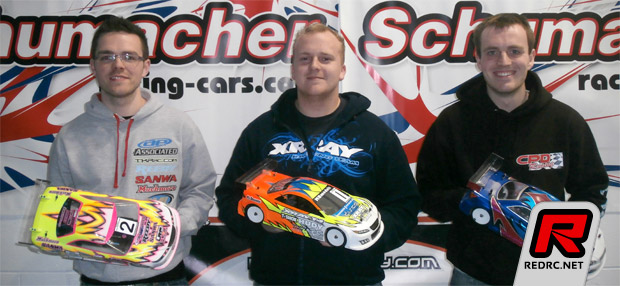 The penultimate round of the Essex Winter Series took place this weekend. With the event being held just one week before the BRCA Winter National, the event was fully booked many months beforehand, with some EWS-regular drivers missing out on getting their entries secured in time. The Superstock class once again saw a number of top UK National drivers competing, along with three drivers making the journey from Ireland to race. The high level of competition meant five close rounds of qualifying, highlighting the fact that the EWS is now considered the UK's premier indoor on-road championship.
James Hart, the winner of the previous round of the series, topped the opening round of qualifying, ahead of defending champion Paul Pinkney and October winner Tony Broad. Olly Jefferies put his round 1 troubles behind him to go fastest in the second round, with James second and Tony again third. Round 3 and 4 both saw James top the timesheets ahead of Olly, with Ashley Wiffen third in round 3 and Paul in round 4. This secured James the pole position, and he used the final round to test some possible changes. These clearly didn't work well for him as he initially struggled in the round, although mistakes from other drivers allowed him to work his way back to second by the end. Phil Chambers had been threatening speed all day, and finally got everything together to go fastest in the final round, with Tony exactly matching James' time to tie for second in the round. Once all the points were added up, James would start the A Final from pole ahead of Olly and Phil, with Tony fourth and Ashley fifth. Paul lined up sixth in front of Alan Bickerstaff is his now-common seventh place, Richard King, Keith Dempsey and Leyton Foster.
The start of the A Final saw the top three pull away from the rest of the field, leaving Tony to head up the rest of the pack in a 7-car high speed freight train. But after just 5 laps, the leading trio was down to two as Phil retired after hitting the high speed sweeper at the end of the straight. A few laps later, that two became one after Olly rolled his car, losing 1.5 seconds and dropping him onto the front of the chasing pack. Tony could now turn his attention to applying pressure to the current British National champion, but Olly soaked it all up and kept the car ahead for the remainder of the race. Tony held his third place, and Paul passed team-mate Ashley on the final lap of the race to take fourth. But James Hart had driven a faultless final to take the victory by over 4 seconds.
Super Stock 13.5 A Final Result
1 (1) James Hart – Xray/Thunder Power – 21 / 305.59
2 (2) Olly Jefferies – Associated/Reedy – 21 / 309.65
3 (4) Tony Broad – Yokomo/Vampire – 21 / 310.59
4 (6) Paul Pinkney – Schumacher/GM – 21 / 310.70
5 (5) Ashley Wiffen – Schumacher/GM – 21 / 311.34
6 (9) Keith Dempsey – Yokomo/Thunder Power – 20 / 301.16
=7 (7) Alan Bickerstaff – Associated/Reedy – 20 / 303.28
=7 (8) Richard King – Awesomatix/Vampire – 20 / 303.28
9 (10) Leyton Foster – Xray/Dualsky – 20 / 303.53
10 (3) Phil Chambers – Xray/ORCA – DNF
In the stock class, the initial battle for pole was between defending series champion Darren Tickner and the top qualifier at the October round of the series, William Stuart. Darren topped both round 1 and round 2 from William, but in Round 3 Mark Trinder found some new pace to go fastest, with William again in second. Mark was now into his stride and backed up his round 3 score by setting the quickest time in rounds 4 and 5 as well. Darren was second in both rounds, with William third in round 4 and Barry Hughes taking third in the final qualifying round. That left the overall A final grid with Mark on pole, Darren second, William third and Barry fourth. Mark Young would line up fifth, Trevor Bailey an excellent sixth, ahead of Dominic Shore, Adam Mullock, Chris Betts and Mark Caton.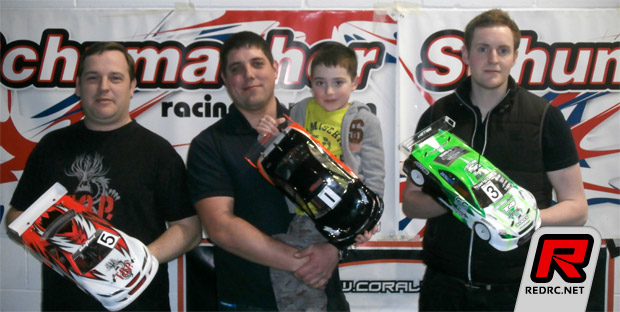 The start of the A Final saw William get past Darren on the opening lap, as Mark Young also moved up to fourth with Barry Hughes dropping right down the field. Mark Trinder started to build a lead from lap 1 which he would never relinquish through the entire race distance. Mark Young then worked his way into third following a mistake from Darren and set off after William. A few laps later, Mark then passed William, but William stayed right on Mark's bumper. These two drivers circulated in close proximity but remained in that running order until the five minute buzzer sounded.
Stock 21-5 A Final Result
1 (1) Mark Trinder – Xray/Tekin – 19 / 303.13
2 (5) Mark Young – TOP/LRP – 19 / 307.58
3 (3) William Stuart – Xray/Thunder Power – 19 / 308.35
4 (7) Dominic Shore – Spec-R/Hobbywing – 19 / 312.79
5 (6) Trevor Bailey – Schumacher/Thunder Power – 18 / 300.39
6 (8) Adam Mullock – Associated/SpeedPassion – 18 / 303.42
7 (2) Darren Tickner – Spec-R/Hobbywing – 18 / 303.55
8 (10) Mark Caton – Serpent/GM – 18 / 310.38
9 (4) Barry Hughes – Xray/Thunder Power – 18 / 310.67
10 (9) Chris Betts – Tamiya/Reedy – 17 / 300.78
With just one round of the series remaining, Mark Trinder now heads the Stock championship by 7 points from Darren Ticker, and by 10 points over William Stuart and Richard Clarke. Paul Pinkney and Tony Broad are tied at the top of the Super Stock points standings, ahead of Darren Lee, Dean Gibbs and Ashley Wiffen.
Thanks to Oli Meggitt for sending the report.
---