February 27, 2013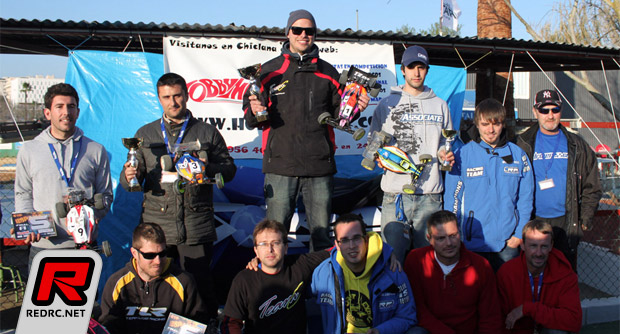 The first round of the Spanish 2WD electric buggy Championship took place last weekend in the Andalusian town of Jerez, in southern Spain. It is the second consecutive year that the club CDRC Jerez hosts a national championship and they put on a great effort to prepare the track from all rain and bad weather the week leading up to the event. Yet again the series saw a great attendance with drivers from every corner of the country. Electric racing is getting pretty popular in Spain, and many drivers from nitro classes are trying their luck in the electric classes. One of them is current 1/8th World champion Robert Batlle who raced his first ever electric race in Jerez.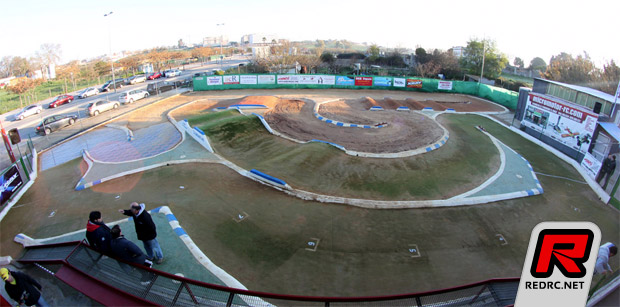 On Saturday's practice local driver Antonio Notario showed that he would be one of the contenders for the win. Last year's winner in Jerez, Team C driver Zacarias also had a good pace. Robert Batlle had the speed but was lacking consistency and Carlos Pineda was struggling with a new-built car in the first rounds of practice. The four drivers stood out from the rest.
On Sunday all five rounds of qualifying and triple finals were held. Team C driver Zacarias Villalba took the first two rounds of qualifying while local driver Antonio took the third. Associated-Fasol driver Carlos Pineda got his speed up in the last two rounds and won them. It came down to the fastest time to determine the TQ, in favor of Villalba by 8 second. As qualifying went on the track rutted up badly and drivers had to find new lines in the dirt/clays sections. The extremely low-traction astro-turf didn't make thing easier for the drivers.
The crowd gathered around the track and witnessed epic battles in all three A-finals. Notario took A1, while Villalba and Pineda took A2 and A3 respectively. All three drivers also had a second position, so yet again it all came down to the fastest time to crown de the winner. Villalba won by 8 tenths over Notario, with Pineda in third. Robert Batlle was fourth in his electric debut with Yokomo.
Final results
1. Zacarias Villalba (Team C/Speed Passion)
2. Antonio Notario (Associated/LRP)
3. Carlos Pineda (Associated/LRP)
4. Robert Batlle (Yokomo/LRP)
5. Juan Luis Roman (Team C/Speed Passion)
[youtube]http://www.youtube.com/watch?v=mdVqush7HVI[/youtube]
Source: Attack RC
---