March 26, 2013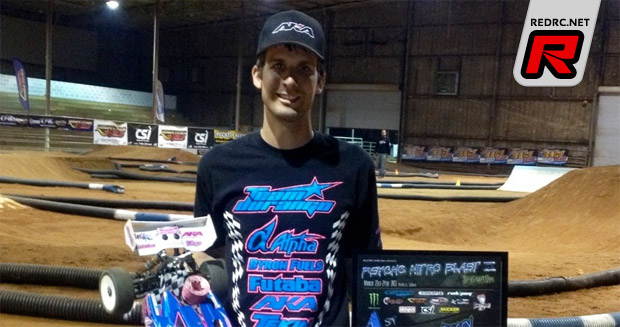 The Psycho Nitro Blast was held last weekend in Unadilla, Georgia and Durango/AKA driver Ryan Lutz filed this report. This has always been one of my favorite races on my schedule and I always look forward to going back. I missed out last year as I visited the Alpha factory in Taiwan but this year I pushed that trip back to be sure I could attend the PNB. This race is just a one of a kind type event that you just have to try. What makes it so great I feel is the atmosphere and just the huge, intimidating, super rough track. The layouts generally start pretty mundane but give it a few hours of run-time on the track and the holes that develop swallow cars whole and some don't come out. My favorite is generally the A-mains at the end of the weekend when the track is at it's utmost extreme and it just takes a bit of creativity a patience to find lines that can keep you on 4 wheels and going fast. Here is how my roller coaster unfolded.
In qualifying things went pretty well for me. In E-buggy my DEX408 was a solid contender and with some mistakes in Q1 I was still able to come away with a 2nd. I rallied back in Q2 to TQ the round and in Q3 I made a mistake early and just couldn't recover enough and took 2nd again behind the Drake who TQ's the class. In Truggy my DNX408T was absolutely on rails. All three rounds of qualifying went my way and it looked to be my most dominant class of the weekend going into main day. I was shocked as we never even touched the shocks all weekend using the same set-up as the Nitro Challenge even with the much rougher track. Only thing we changed was lower center diff fluid. In Nitro Buggy my prototype DNX408 was doing pretty well. I TQ'd the first round and then had a good battle with King in rd 2 and he edged me out by .2 tenths to the TQ of that round. In Q3 I made a early mistake and never recovered enough getting 2nd again but King finished it off and took the overall TQ. So going into main day I TQ'd Truggy and was #2 in both buggy classes.
E-buggy A-1 was one of my worst starts ever. I got winged on the back right corner taking me from 2nd to dead last on the first lap. I worked my way back to 8th by the end of the first lap but got in nasty traffic again getting used as a punching bag and fell to the back again. This time about 3 laps in I was way behind but the field was at least spreding out so I worked my way through the field the rest of the race to take 4th.
In A-2 I had a good start and tailed Drake for a couple laps. I would then make a pass and he would fall back and eventually break out. I cruised from there just pulling away and won by over 20 seconds. Overall though with my 4th in Q1 I was only able to tie for the points lead but lost the tie breaker because I didn't get the 12th lap in Q1 due to all that traffic. So I settled for 2nd place. My buggy felt so good though and even with the rougher track in A-2 I was able to go faster than the best time in A-1.
In Nitro Truggy my truck had been dialed all weekend. In the main though something just felt a little off. I feel I had the wrong gearing as I was running a 14t clutchbell but come main time with the track so rough I think the 13t would have been faster for me. Anyways I had a bad start off the line and had a 3 way battle in the first couple corners and we all tangled and I got the worst of it getting demoted backwords in the field. I worked my way back up to 4th eventually but the lead 3 had a good lead. During the ensuing 20 minutes or so I quietly chipped away at the lead group and got to within like 6 seconds of the leader and right behind 3rd but I made a mistake or two pushing me back and then with a number of minutes to go I lost my throttle servo ending my challenge. Overall though my truggy was dialed and the TQ honors were nice.
In Nitro Buggy I wanted some revenge for what happened in truggy. At the start I stayed good behind King who started on pole. At the wall on the first lap I tagged the tire sending me back to 3rd but I quickly retook 2nd and chased down King by lap 3 and put a nice block side pass on him through the S section after the big triple and after that I just took off and for most of the race averaged over a second a lap faster than anyone else. The last couple laps I made some mistakes ruining my pace but I still won by 20 seconds and on the last lap attempted a victory backflip over the triple and just nosed in upon completion of it. Overall my Proto DNX408 felt great. My AKA Soft Gridirons were the ticket on this loose and bumpy track. My Byrons New Worlds blend fuel 25/8 was offering great performance and increased runtime for me all week long. And of course my Alpha Plus Lutz Edition engine was as trusty and reliable and fast as always.
Source: AKA [raceaka.com]
---