April 30, 2013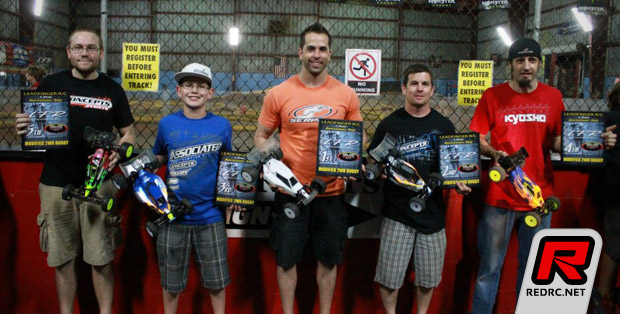 This past weekend was the First Annual LFR race at Space Coast R/C in Cocoa Beach, FL and Billy Easton provided this report. 'The facility is the largest Indoor track in the state of Florida. They use Red Clay and prep it with grape soda and sugar. The traction is pretty intense and the layouts are always a blast.  Angel and his crew did a great job keeping the track up and the race program going. There were around 200 Entries for the event and 21 or so heats. It was a typical IFMAR qualification format with 2 quals and a single A-Main. There were a fair amount of sponsored drivers in attendance, Paul Wynn, Ryan Eckert, Daimon Borkowicz, Jeremy Harris, Jadar Lopez and a few others. This track has been the home of a lot of the testing and development of the Serpent SRX-2. I have several race days at this track to develop the car for durability and also performance. This was the largest race I have entered thus far.
As qualification set off, my first round was going well until my tires went away about 3 minutes in. The car became difficult to drive and I began making too many mistakes. That round, the top finisher was Paul Wynn with his AE B4.2. He drove a smooth 5 minute qualifier with minimal troubles. The second round came around and I opted for a longer lasting tire (harder compound) and my car was on point for a fast time. Although the track was a little dusty I posted a good time and was able to take overall TQ for the event. It was nice to be on Pole, as the car was working well and it never hurts to have a good outing with such a new car.
After waiting what seemed to be all day, finally our main was up. I changed up the setup for the final to something I thought would be more drivable for the final. We were very lucky to have the track blown off just before our final. This gave us a premium track for the 5 minute final. At the sound of the horn, my car felt really good. It was stable and fairly easy to drive. The changes numbed out the front end and although it was a little slower in the corners you could run lap after lap with no troubles. I was able to pull away from the tone and steadily put a gap between me and second place. The finishing order was Myself, Paul Wynn, Daimon Borkowicz, Ryan Eckert and Andy Darby.
Source: Serpent [serpent.com] / Image: RC Racing Action Shots photography
---