April 25, 2013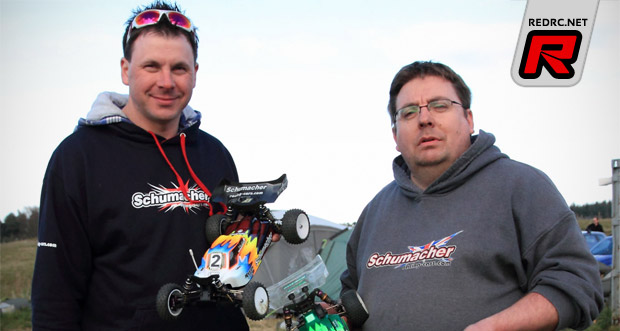 Last weekend saw the start of the Scottish Off Road Championship hosted by Dunfermline District Radio Car Club.  Round 1 of qualifying was a bit of a wet affair with Chris Mitchell setting TQ pace in 2wd and Kenny Clark setting the fastest time in 4wd. The lap times tumbled as the track dried out through the rest of qualifying, the early pacesetter of Chris Mitchell took TQ in 2wd and Kenny Clark managed to secure overall TQ for 4wd. Chris Mitchell the 2wd pole man was unable to convert his early pace in the finals it was the Schumacher SV2 driven by James Collins that took the win of all three legs of the 2wd A finals. For the 4wd finals it was much the same story as with 2wd, polesitter Kenny Clark unable to take the win, it was the Schumacher K1 of Martin Wallace that pipped Kenny by 1 second in leg 1, leg 2 was an even closer run thing between Martin Wallace and Ross Irwin, Martin just managed over the line in front of Ross beating him by 0.23 of a second and taking the overall 4wd win.
2wd final results
1. James Collins (Schumacher)
2. Kenny Clark (Centro)
3. Derek Kerr (Kyosho)
4. Chris Mitchell (Team C)
5. David McKeown (Centro)
6. Jason Liddell (Centro)
7. Colin McCaffery (Centro)
8. Matthew Litton (Ansmann)
9. Craig Ivory (Ansmann)
10.Darren Brodie (Durango)
4wd final results
1. Martin Wallace (Schumacher)
2. Kenny Clark (Durango)
3. Ross Irwin (Durango)
4. Allan O'Brien (Durango)
5. James Collins (Schumacher)
6. Bryan Blackhall (Durango)
7. Colin McCaffery (Durango)
8. Derek Kerr (Kyosho)
9. Gary Dunn (Caster)
10.Stevie Dow (Schumacher)
Thanks to David McKeown for the report.
---