April 8, 2013
Last weekend under sunny skies in Singapore, racers gathered for Round 2 of the NOOB Singapore Open Buggy Series held at RaceWorks Arena. This round saw the racers running on a freshly resurfaced track with a challenging new technical layout that would test everyone's skills. In the 4WD class, Mark "BC" Lim set a blistering pace in his Durango DEX410v3 buggy to TQ the class ahead of Jericho and Png. However in leg 1 of the finals an early mistake by BC resulted in a popped turnbuckle which effectively took him out of the run. Tein, the winner of Round 1, drove a clean race to win Leg 1 after starting from 5th on the grid. Bouncing back from the poor performance in Leg 1, BC took take Leg 2 and 3 to emerge overall champion with Tein in 2nd spot and Jericho in 3rd.
4WD A-Main Podium
1. Mark "BC" Lim (Durango)
2. Tein (Durango)
3. Jericho (Durango)
In the hotly contested 2WD class, BC emerged top qualifier with Joakim and Jericho in 2nd and 3rd on the grid. As the finals kicked off, BC led the pack through most of leg 1 until a loose screw in the steering assembly forced him to retire. Mistakes from Joakim and Jericho saw them drop back and a determined Tein, chasing from 4th on the grid, would pilot his Durango DEX210 to the win. In Leg 2 and 3, BC held off challenges from Joakim and Jericho respectively and won both legs to complete the double for Round 2. Tein finished in 2nd and Joakim in 3rd.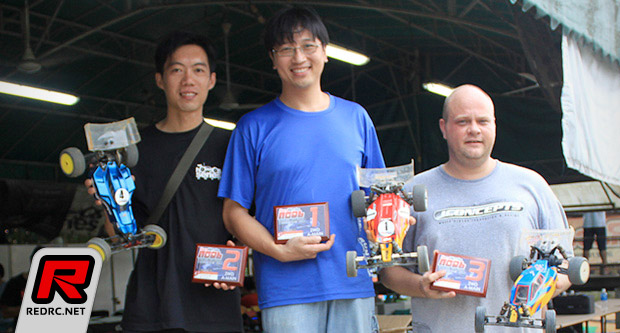 2WD A-Main Podium
1. Mark "BC" Lim (Yokomo)
2. Tein (Durango)
3. Joakim (Kyosho)
Thanks to Mark Lim for sending the report.
---