April 10, 2013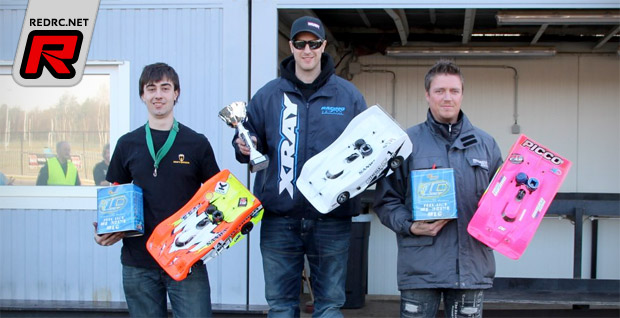 The first race of the Dutch nationals was held on the MRG track in Genk, Belgium. With a small line of grip and slippery as ice if you go outside it is a very tricky track, even with the use of tire additives which is legal this racing season. In the NK we had 23 drivers and now following EFRA there is no direct finalists. While this track is a Belgian track it was Dutchman John Ermen setting the fastsest qualification time folowed by RickV and behind them the Belgian drivers Gunther v. Steay and Robin d'Hondt. In the half finals John had a collision and had to retire. The new construction of the finals has directly proven that the normal 4 fastest drivers have to race for a final place and is creating less room for errors. In the other half final it was RickV winning the race without problems making pole position for the final. After an hard race it was RickV taking the win followed by Robin d'Hondt with just 8 seconds distance and with a huge 4 laps distance on the 3rd podium spot Steven Cuypers.
1. Vrielijnck Rick – 115L 30:00.339
2. D'hondt Robin – 115L 30:08.105
3. Cuypers Steven – 111L 30:06.619
4. Lenaers John – 109L 30:07.275
5. Baggen Frank – 109L 30:15.262
6. Zevenhoven Martin – 107L 30:09.050
7. Schouten Marcel – 101L 30:06.072
8. Reijnders Niels – 94L 29:06.808
9. Haling Daan – 72L 19:20.387
10.Van Steay Gunther – 35L 9:06.970
In the NOMAC class we had 26 drivers running with the same new rules and construction of finals. The fastsest driver was the Belgian driver Cédric Dewynants running his first Dutch national. He was folowed by Patrick Vanieuwenhuyse, Andy Muijres and Mark Vandenberk. Although Cédric was not the fastest in his half final he managed to jump into the main final and supprisingly it was Benny Ciere taking the win. The same was with Patrick Vanieuwenhuyse in the other half final, he just finished behind Richard Keur, a former EFRA 40+ Champion who decided to start racing again. In the final it was Benny Ciere racing a very strong race and taking the win. He was followed by Patrick Vanieuwenhuyse and Ruud Knoester.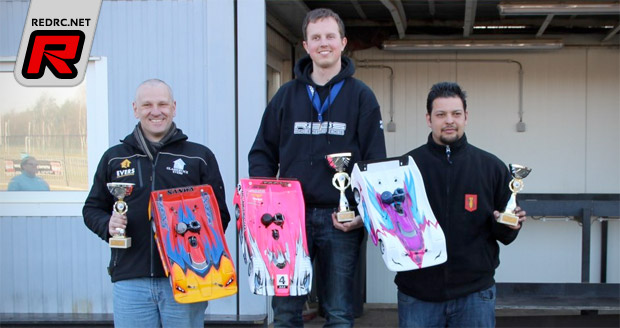 1. Ciere Benny – 105L 30:04.689
2. Vanieuwenhuyse Patrick – 104L 30:00.509
3. Knoester Ruud – 101L 30:09.182
4. Keur Richard – 100L 30:15.900
5. Dewynants Cédric – 99L 30:12.914
6. Moors Danny – 92L 27:50.004
7. Bauer Stanley – 88L 30:04.399
8. Vandenberk Mark – 60L 21:25.490
9. Van Silfhout Wesley – 45L 14:27.540
10.Vissenberg Ad – 21L 6:01.247
The next national will be held on the REAL80 track.
Thanks to Roelof Tooms for the report.
---