May 14, 2013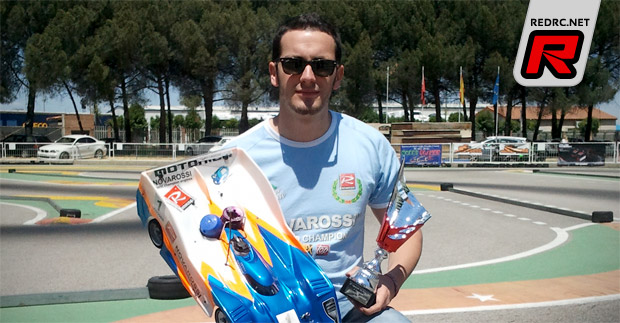 The second round of the Spanish 1/8th onroad Nationals was held in Madrid under sunny conditions and good temperatures. Qualifying saw Oscar Cabezas get the pole-position, being the only driver to make 14 laps on the way to a new track record, while in second position was Carlos Peracho. In the final Cabezas led the entire race and won by more than a lap advantage over Nacho Lopez in 2nd and three laps over Carlos Peracho in 3rd. Oscar leads the National standings with two wins from two races ahead of the third and final race on the 14th of July in Vigo, next to the beach.
Final results:
1. Oscar Cabezas – Motonica/Novarossi/MLC/Enneti
2. Nacho López – Serpent/Max Power
3. Carlos Peracho – Sepherd Velox
4. Víctor González – Motonica/Vox
5. Adrian Santeiro – Mugen/Novarossi
6. Sergio Rivas – Serpent
7. Iñaki Otero – Serpent/Novarossi
8. Sergio Montesinos – Mugen/Novarossi/-Enneti
9. Alberto Fernandez – Serpent/Vox
10.Joaquín Signes – Mugen/Novarossi
Thanks to Oscar Cabezas for the report.
---