May 4, 2013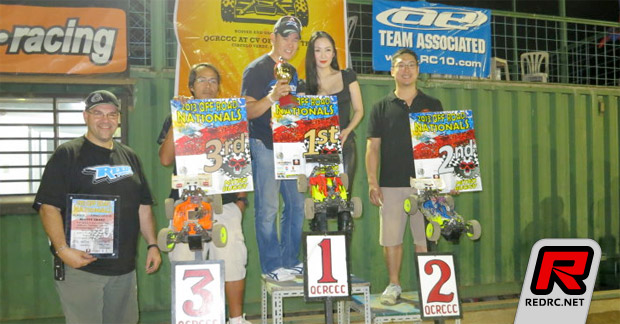 Racers from all over Metro Manila as well as Cebu and even Riyadh descended on the CV Off-Road Track for The 2013 Nitro Buggy Philippine National Championships. Early in the morning everyone was greeted with fine & sunny weather. World renown Race Organizer & Announcer Scotty Ernst was on hand to as the event's Race Director. His colorful commentary added even more excitement to what would be an already amped-up Race.
Once again the IFMAR style Christmas Tree format was used & after a number of 10 minute Qualifying rounds as well as Quarter Final & Semi Final rounds disrupted by an unexpected rain delay), the stage was set for the Final when the top 12 Drivers got on the grid to battle it out & determine the Philippine National Champion for 2013. With the earlier downpour & the CV Track's garden soil doing its job, the racing conditions were Fantastic. Dust, traction & tire-wear were not an issue & it prompted Race Director Scotty Ernst to say: "You guys have Amazing soil for this Track. I'm very impressed". Apparently, so were all the racers who relished the Wheel to Wheel Off-Road racing throughout the day…
After 2 restarts due to some eager Racers & pitmen, the 3rd time was the charm. Serpent's Jordan Go quickly grabbed the Holeshot to the first corner & a first lap lead as Xray's Daniel Sarmiento who was TQ trailed right behind him. Daniel crashed after the last jump and right before the loop. This dropped him a few places & Team-C's Garet Santayana took advantage. Jordan Go then bobbled as soon as he hit the chicken-feet section giving Garet the lead on the 2nd lap. Jordan's mistake also allowed Daniel to charge through to 2nd place & he quickly was all over Garet's rear bumper. By the 3rd lap both battled for the lead but Garet crashed after the Double-Double jumps. This propelled Daniel to take back the lead as well as allow Jordan to claim 2nd place after the first few laps.
After the action packed first few minutes, things settled down a bit for Daniel as he managed to stretch a lead and create a gap. Serpent's Jordan Go made a few errors which then allowed Kyosho's Denis Lucindo & fellow Seprent racer Clemen Pancho to battle for the 2nd and 3rd spots. There was some excellent dicing between the two as they attempted to reel-in Team Xray's Daniel Sarmiento. These were pretty much the highlights of the first 20 minutes. Not long after the 20 minute mark Team Kyosho's Denis Lucindo flamed out & this opened the door to Jordan who had just gotten passed his Serpent teammate Clemen Pancho. A few laps later more bad luck hit Denis as the wing on his Kyosho buggy came off. This eventually dropped him down the order. At around the 30 minute mark Team Xray's Daniel Sarmiento is a lap up on the field while his teammate Michael Ang holds the 5th spot.
When the race got passed the halfway point (around the 35th minute), race leader Daniel Sarmiento began experiencing a number of bobbles & errors. The succession of mistakes allowed 2 Time Nitro Buggy National Champion Jordan Go to not only un-lap himself, but also to climb back up to contention for the win. By the 45 minute mark Jordan was just 5 seconds behind Daniel. Kudos must go out to Daniel's pit crew who gave him some blistering pitstops. Serpent's Clemen Pancho & Team C's Garet Santayana put on a good display of clean & entertaining racing as they fought for 3rd Place. With under 10 minutes to go Team Serpent's Jordan Go uncharacteristically made a number of driving errors & mistakes which allowed Daniel to slowly stretch out his lead. This cushion would prove to be the deciding factor as Daniel managed to get an extra lap in right before time expired & bag the 2013 Nitro Buggy National Championship. The well deserved victory lap was applauded by all in attendance as they witnessed the crowning of a new Philippine National Champion.  Serpent's Jordan Go & Clemen Pancho got 2nd & 3rd Place respectively.
Thanks to Ish Montilla for the report.
---