May 18, 2013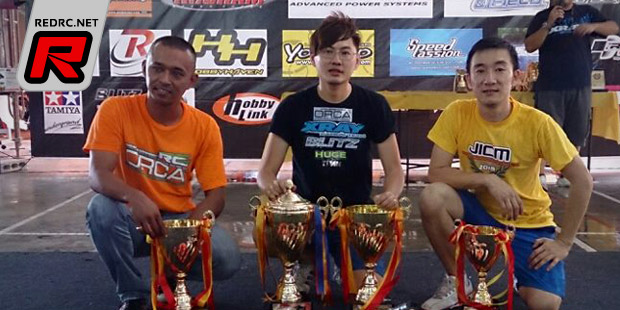 The inaugural Johor Indoor Carpet Master 2013 was held recently in a sleepy town best known for seafood in Pontian, Johor, a town located down south in Malaysia. The race was organised on a racer for racer concept by Ken Ng who managed to pull some resources as there is no indoor racing track facility  in Malaysia. The response for the race was great with some 80 entries from Malaysia and Singapore. The track used was a rather big temporary carpet track and motors being limited to brushless 13.5T. The class was run on hand-out Ride 32R tires. The race saw five rounds of qualifying with the three best would be chosen to determine the final grid. The first four rounds were held on Saturday and recent TITC attendees PY Tang and Azri Amri proved to be very fast. Both secured two wins each round of qualifying however, due to tie break of two combined best rounds, Azri took TQ by 3 seconds over PY, thus handing him overnight TQ on Saturday evening. Come Sunday morning, it was time for the penultimate round of qualifying and everyone had high hopes to do better and staying in the A Main. So the pressure was high and it was PY Tang who came in first thus securing him the top qualifier honours.
Qualifying result
1. PY Tang – Xray T4
2. Azri Amri – VBC
3. Daryl Thong – Xray T4
4. Ken Ng – Xray T4
5. Ong Chee Yong – ARC
6. Esmail – TOP
7. Shahrin – Yokomo BD7
8. Norazam – TRF 417v5
9. Haikal – Xray T4
10. Colin Yong – Xray T4
Come the first final, PY Tang seems to have the pace to maintain his lead from start till the end. Azri made a few moves over PY but PY seemed to have the upper hand. In the end, Azri came in second with a very close gap of 0.544sec. While most of the time, the attention was on the battle for first, the battle for 3rd at the back gave spectators some interesting moments. Daryl and Ken fought it off from start till the finish. Ken managed to overtake Daryl right after the sound of the tone. The young Daryl maintain a close gap to Ken and tried some moves until lap 12 when Daryl managed to pass Ken to finish 3rd.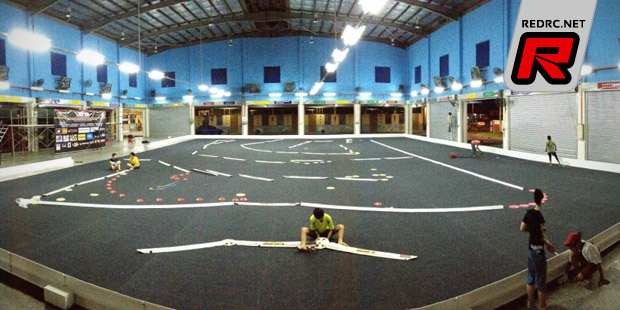 Come the second final, Azri made a small mistake by touching the track markers on lap two giving PY Tang some breath to maintain his lead till the finishing line, thus securing his overall win of the race. PY also posted the fastest lap of the race of 14.912sec. This gave PJ the Carpet Master title 2013. Daryl and Ken fought for 3rd with both exchanging positions several times and an accident saw both dropping to the back while Haikal who started on the 8th position came up to the 3rd position. He stayed there until lap 17 when the hard charging Ken passed him and finishing third. The last final would decide about the two remaining podium positions. With Azri Amri looking comfortable to secure the second spot, the focus was on Daryl and Ken. However, Daryl made a small mistake at lap five allowing Ken to make a clean move, securing him the final podium spot.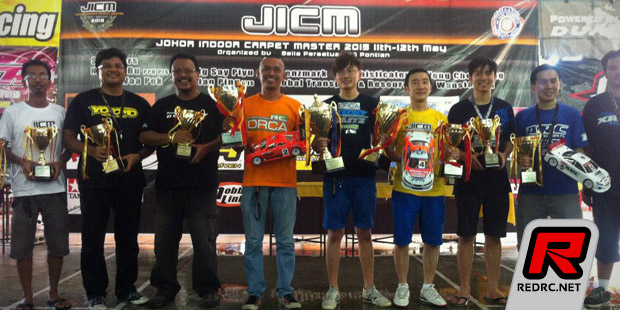 A final result
1. PY Tang – XrayT4
2. Azri Amri – VBC
3. Ken Ng – Xray T4
4. Daryl Thong – Xray T4
5. Ong Chee Yong – ARC
6. Haikal – Xray T4
7. Norazam – TRF 417v5
8. Shahrin – Yokomo BD7
9. Esmail – TOP
10. Colin Yong – Xray T4
Thanks to Jonest Wong for sending the report.
---