May 26, 2013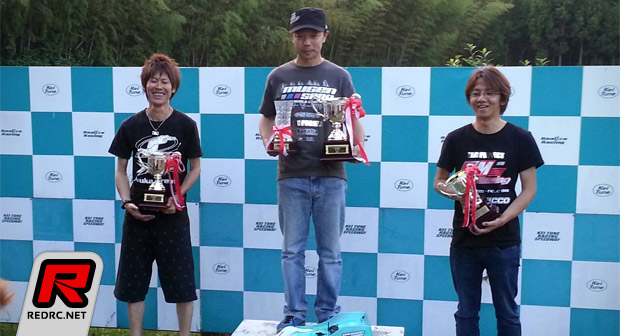 The official 1/8th Pre Worlds race took place this weekend at the Keitune Racing Speedway close Tokyo with a number of foreign racers taking part, including current World Champions Robert Pietsch, Meen Vejrak & Jilles Groskamp. Mostly treated as a test session to learn this difficult track and get some valuable setup information ahead of the event which will be held in October, there was also some bragging rights up for grabs. Qualifying would be a Japanese domination with the locals taking 16 of the top 20 spots including the top 5 with Groskamp the fastest of the rest in 6th. Doing well in qualifying would be down to who could make 5 minutes and it was new Mugen signing Takaaki Shimo and his OS engine that took pole position with fellow Mugen/OS driver Shinnosuke Yokoyama in 2nd. Tadahiko Sahashi would take third for Serpent with Picco team mate Keisuke Fukuda 4th with the all new KM car.
After the semis the top 4 would be joined by Terauchi, Groskamp, Y Sahashi, Pietsch, Vejrak and Tanaka. In the finals Shimo would take control from the start with Yuya Sahashi close behind early on. The real battle was to be between Fukuda and Pietsch, the two World Champions pushing each other hard but it was to be decided by the German having to make a late stop. For the other 2 world Champions in the final both Meen V's and Jilles Groskamp's races were hampered by flame outs early on. Shimo would take the win by 9 seconds over Sahashi in 2nd with Fukuda 13 seconds further back, just 3 seconds ahead of Pietsch.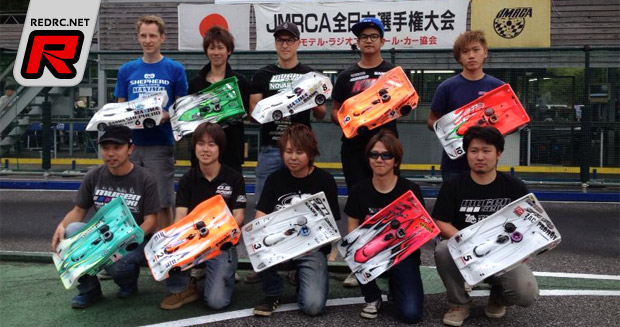 Final results
1. Takaaki Shimo – 208L 01:00:00.014 (Mugen/OS/ZAC)
2. Yuya Sahashi – 208L 01:00:09.111 (Serpent/Picco/Xceed)
3. Keisuke Fukuda – 207L 01:00:04.559 (KM/Picco/ZAC)
4. Robert Pietsch – 207L 01:00:07.025 (Mugen/Novarossi/Contact)
5. Takehiro Terauchi – 205L 00:59:55.491 (Mugen/Novarossi/ZAC)
6. Masao Tanaka – 205L 01:00:06.915 (Serpent/Max/Serious)
7. Meen Vejrak – 204L 01:00:02.629 (KM/OS/ZAC)
8. Jilles Groskamp – 202L 00:59:58.625 (Shepherd/Maxima/Hotrace)
9. Shinnosuke Yokoyama – 180L 01:00:03.033 (Mugen/OS/ZAC)
10.Tadahiko Sahashi – 131L 00:41:31.983 (Serpent/Picco/Xceed)
Thanks to Rick & Masami for the information and Teru & Trin for the images.
---