May 28, 2013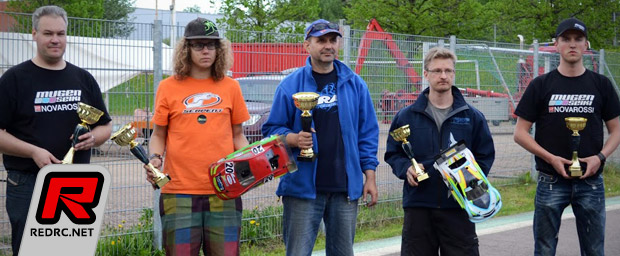 The first round of the Finnish nitro on-road nationals was held in Kuusankoski on a tight and demanding track. The drivers had to cope with a low traction surface in the beginning but at the end of the qualifying the grip came up. Teemu Saarinen was able to take TQ with a 19 laps run in front of Tony Raikas, Sami Munck and Matias Kuusinen with the latter three only being separated by 0.6s. The semifinals were used to test different tire strategies for the 45 minutes final and to the big surprise of everyone TQ Teemu lost some serious pace compared to his qualifying runs ending up in third position for the finals.
Come the A main Teemu took an early lead followed by Sami, Jörg-Mikael and Tony. Some 25 minutes into the final Teemu changed tires and dropped down to 4th place while Tony took the lead followed by Jörg-Mikael and Sami. Five minutes later Sami had to retire due to a broken clutch and Jörg-Mikael changed tires, this left Tony in the lead followed by Teemu and Jörg-Mikael. Further three minutes later Tony had to retire due to a broken belt, this left Teemu and Jörg-Mikael on the leading fight. As both drivers where running a different fuel strategies it was hard to guess who had a better chance for the win. In the end it was Teemu Who took the win by 3.9 seconds in front Jörg-Mikael and Alexander.
Final result
1. Teemu Saarinen – Mugen/Novarossi
2. Jörg-Mikael Tiit – Serpent/Novarossi
3. Alexandr Naumov – Xray/Novarossi
4. Jari Valkola – Xray/Novarossi
5. Matias Kuusinen – Mugen/Novarossi
6. Janne Westerlund – Mugen/Novarossi
7. Jomi Pulli – Serpent/Novarossi
8. Panu Vehniäinen – Mugen/Novarossi
9. Tony Raikas – Mugen/Novarossi
10.Sami Munck – Mugen/Novarossi
Thanks to Teemu Saarinen for sending the report.
---