July 1, 2013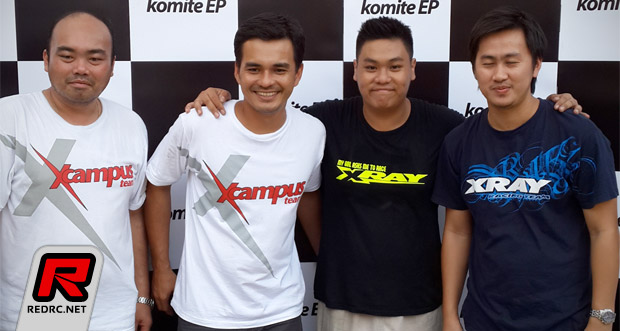 Round 3 of the Jakarta Regional 1/10 EP Championship was held at the Jakarta International Twin Circuit Senayan which is normally a nitro track, but had a modification to accommodate EP cars done and then ran in counter-clockwise direction. In the primary superstock 10.5 boosted class, Bowie Ginting took the TQ spot from Teddy Syach with only 0.037 seconds separated them. Heri Susanto completed the top 3. In Stock class, Ronald Kasengkang took a comfortable TQ by 6 seconds from Robert Hendrawan and Ignatius Ryan, while young racer Muhammad Izzah also took an easy TQ in the FWD class.
Superstock final leg 1 got underway, with Teddy taking the advantage by using fresh tyres to lead from pole man Bowie who decided to run his qualifying tyres a wrong decision which allowed Teddy to open the gap to 2,4 seconds at the finish. Heri who was behind the two front runners made a mistake in the straight line and dropped to 5th while Suwardi climbed up to 3rd. Leg 2 ran in a bit hotter weather and saw Bowie with the freshest tyres in the grid and so took advantage and won by some 2,5 seconds in front of Teddy and Heri. Leg 3 was going to be decisive run for Teddy and Bowie with a let win each. The track condition were in their best conditions and saw Bowie and Teddy run away from the field. Teddy gave his best shot to push the pole man but he made two mistakes that let Bowie spread the gap to 3,5 seconds.
The Stock final was more of the same from Ronald as he scored three comfortable leg wins from the field. The second spot saw a big battle as there were four different racers who still had the chance to take the spot in the final leg. The final leg saw many incidents by the front runners and by the end Chandra Yosef, who started from 4th, took the runner up spot from Robert Hendrawan.
Muhammad Izzah secured all the legs in FWD class from Peter Anthony and Anton Santoso.
Superstock class result:
1. Bowie Ginting (Xray) (TQ)
2. Teddy Syach (Tamiya)
3. Heri Susanto (Xray)
4. Ronny Suwarto (Xray)
5. Adrian Sutanto (Xray)
6. Suwardi Suliandy (Xray)
7. Andy Sanjaya (Associated)
8. Peter Anthony (Yokomo)
9. Denny Pangestu (Associated)
10.Imam Prakoso (Tamiya)
Stock class result:
1. Ronald Kasengkang (Tamiya) (TQ)
2. Chandra Yosef (TOP)
3. Robert Hendrawan (Associated)
4. Christian Mamesah (Serpent)
5. Ignatius Ryan (Tamiya)
6. Imam Liyanto (Tamiya)
7. Ivan Hartono (Associated)
8. Fernando Turadji (Serpent)
9. Reza Hardjuni (Tamiya)
10.Anton Santoso (Associated)
Thanks to Bowie Ginting for the report.
---