July 10, 2013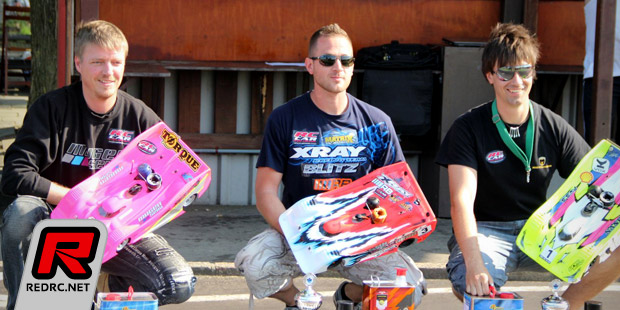 The 4th round of the Dutch 1/8 on-road nationals was held on the very small and tricky circuit of MBC de Sluis in Gouda. This year the track received a new layer of asphalt and a new fence to protect the spectators much better because small mistakes are easy to make here. John Ermen was the only driver to set a 22 lap qualification time followed by RickV, Steven Cuypers and Robin d'Hondt. Still they had to drive the semi finals to reach the main final, that was no problem although John did face a moment of problems loosing some laps but he was fast enough to reach the main final.

In the final Steven had a bad start and gathered some off-road experience while RickV coming from 2nd place overtook Robin and John coming from the 6th place was already on the 3rd spot behind Rick. Rick suffered some problems and had to retire half way and also Robin had some issues loosing two minutes in the pits. Close to the end John was leading on a long distance. Elsewhere Steven had an accident, he broke a rear suspension part and had to pull very slow laps to the finish in order to secure a podium spot and in the last lap also Robin ran into trouble as the exhaust came loose but he could finish the race.
Final result:
1. John Ermen – 124L 30:15.307
2. Robin D'hondt – 114L 30:11.143
3. Steven Cuypers – 112L 29:53.994
4. John Lenaers – 111L 30:14.436
5. Martin Zevenhoven – 108L 30:05.880
6. Arie Manten – 105L 30:01.077
7. Niels Reijnders – 100L 30:04.706
8. Michiel Renting – 96L 30:14.780
9. Rick Vrielijnck – 72L 18:23.087
10.Danny Leewis – 52L 14:09.922
In the NOMAC class Ruud Knoester set the fastest time followed by Ad Vissenberg, Patrick Vannieuwenhuyse and Benny Ciere. Both Ruud and Benny did not pass through the semi finals proving the new final system does make the race more exciting. In the final it was young driver Yesse Keller starting from pole but bad luck came over him, as his engine died. In just three minutes his team swapped the engine from his father's car so he could go on. At the end it was Patrick taking the win followed by Ad Vissenberg and Jeroen Evers who did climb up from the quarter finals. Jesse still managed to become 6th.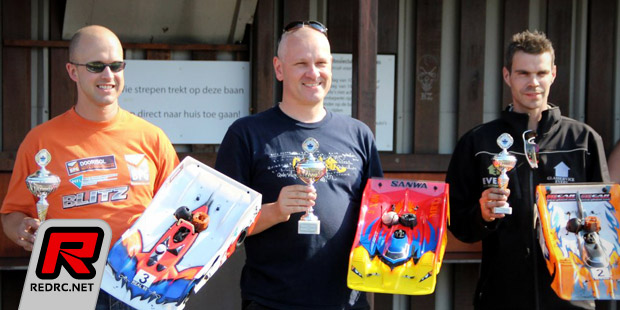 Final result:
1. Patrick Vannieuwenhuyse – 108L 30:00.176
2. Ad Vissenberg – 108L 30:05.878
3. Jeroen Evers – 99L 30:13.745
4. Stanley Bauer – 99L 30:16.890
5. Ad Moelands – 93L 30:03.843
6. Jesse Keller – 93L 30:19.504
7. Wesley van Silfhout – 78L 30:21.113
8. Emiel Jansen – 58L 17:17.528
9. Stephan van Rooijen – 44L 13:31.396
10.Benoit van Pelt – 0L 0:00.000
Thanks to Roelof Tooms for sending the report.
---