July 2, 2013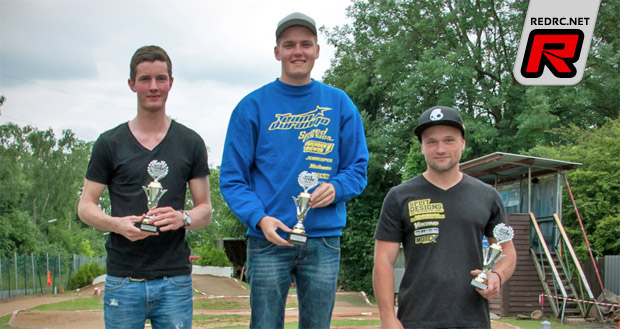 Last weekend saw Team Durango's Jörn Neumann attend the NRW Offroad Cup for the second time. Since its creation in 2009, the NORC has become one of the most popular German electric offroad series on the club racing level and occasionally also attracts drivers from Luxembourg and the Netherlands. As other races in the region proved not to be as attractive in the past few years, the clubs involved decided to hold the West German regional meetings together with the NORC in 2013. As a result, Team Durango's Jörn Neumann joined the NORC crowd again for an intense weekend of racing at the MC Dortmund's clay track. Dominated by Short Course racing in the last few years, the NORC has recently experienced a surge in the buggy groups. Being the only driver to manage 15 laps, Jörn's win in 2WD was never at risk, but the battle for runner up was interesting to watch, and a tight affair between the two Yokomo B-Max2 MR drivers Yannic Prümper and Jens Becker.
4WD was a close affair with the CATs of Holger Ehling and Thorsten Schweichler battling for the win with Raoul Nebelung's Durango. Each of them scored one first and one second place, and in the end, Thorsten's third place in the third A-main secured his victory.
Short Course Stock once again proved why it is the most popular class in the NORC. A class of his own in Dortmund Guido Kraft's performance was a display of high-precision stock racing. In the end, the Speed Passion powered TLR 22 SCT crossed the finishing line first in all three legs, although starting from the last spot on the grid in Leg 3. Runner-up Michael Prott proved that smooth driving is the key to success, when Philipp Müther made a fatal mistake in the final lap while in the lead. Still, he managed to cling to the podium.
Many more thrilling duels ensued during the weekend, and in the Fun/Hobby several more or less young fast guys proved that 17.5 motors are not that slow, with lap times identical to the midranking modified drivers. For full results, feel free to visit www.nrw-offroad-cup.de
Thanks to Markus Schmidt for the report.
---