July 5, 2013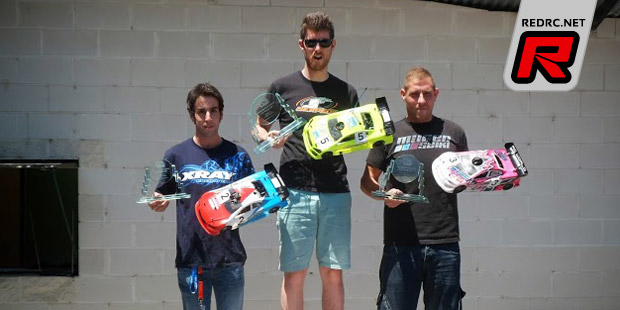 The third round of the Spanish nitro on-road nationals took place at the track of San Adrian. With a perfect weather forecast everyone was set for a great race that could also decide the 2013 championship. It was Serpent driver Victor Pelaez who was very fast in Friday's practice and he also took TQ on Saturday by less than 0.02 seconds. Third placed after qualifying was Jonhathan Pastor followed by Rodri Pahissa, all separated by only 0.6 seconds.
Qualifying top 4
1. Victor Pelaez – 14L 4:03.167
2. Eduardo Escandon – 14L 4:03.181
3. Jonhathan Pastor – 14L 4:03.645
4. Rodri Pahissa – 14L 4:03.749
In the main final right at the start Rodrigo was hit by another car causing severe damages to the rear of his car meaning that he had very few chances of fighting for the win. Nevertheless he managed to finish 5th. On the front end of the pack Victor was leading the final for almost half of the race until he had a flame out which made him loose several places. With Victor out it was Juan Hidalgo who took the lead. He was in a comfortable position after Eduardo Escandon also flamed out, but Jonathan Pastor had a tremendous pace on the second half of the race, plus he was on a different fuel strategy which allowed him to pit one time less than Juan. With this new situation the fight for the win was a close battle between Juan and Jonathan, both swapped positions a few times in the last few laps of the race. Eventually it was Juan who took the win just by two seconds from Jonathan.
Final result
1. Juanito Hidalgo – 101L 30:05.504
2. Jonhathan Pastor – 101L 30:07.381
3. Eduardo Escando – 101L 30:08.923
4. Victor Pelaez – 101L 30:13.240
5. Rodri Pahissa – 100L 30:01.381
6. Fabio Barbosa – 99L 30:07.992
7. Sergi Franch – 99L 30:17.795
8. Jose Miguel Blanco – 87L 28:08.186
9. Javier Hidalgo – 80L 25:35.923
10.Oscar Romero – 33L 10:58.240
Source: Serpent [serpent.com]
---