July 12, 2013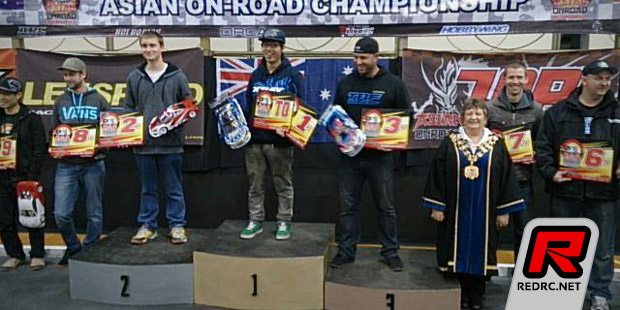 The first ever Australian AOC Race saw close to 200 entries and was one of the biggest races in Australia for a long time. On-road meetings in Australia are normally run on asphalt outdoors, the AOC Race was a different affair as it was held indoors on Carpet, a difficult task with no practice or preparation on the surface for many home drivers. In 13.5T touring cars Keith Chui was on fire from the first practice run, setting lap times that were as quick as the Modified cars, after qualifying was finished Keith was on TQ after a super strong 4th round Qualifying run, all eyes were on him this weekend. Xray team mate Corey Broadstock was also looking strong with consistent runs through qualifying eventually starting 5th off the grid for the finals. At the end Keith was able to conserve his performance by winning the class in front of Corey Broadstock and Justin Vergunst.
13.5T final results
1. Keith Chui
2. Corey Broadstock
3. Justin Vergunst
4. Antoni Caretti
5. Michael Willoughby
6. Darrin Campbell
7. Mark Marshall
8. Andrew Seniak
9. Chui Kang
10.Brenton Bull
With a few internationals travelling to Australia to race the AOC it was always going to be tough for the locals to keep up in the Modified class. After a little bit of a slow start Xray's Tim Lee proved to be the fastest and most consistent of the Australian drivers qualifying 3rd after a perfect 4th round qualifying. Current National Champion Ari Bakla was struggling a little with the carpet and qualified 7th overall eventually ending in 9th position in the finals. Yokomo's Ronald Völker won the competition in front of Team Associated's Kevin Hebert and Timothy Lee (Xray).
Modified final results:
1. Ronald Völker
2. Kevin Hebert
3. Timothy Lee
4. Simon Nicholson
5. Ryan Maker
6. JJ Wang
7. Craig Mcphee
8. Ben Sterling
9. Ari Bakla
10.Sandy Iavazzo
Source: Xray [teamxray.com]
---