July 18, 2013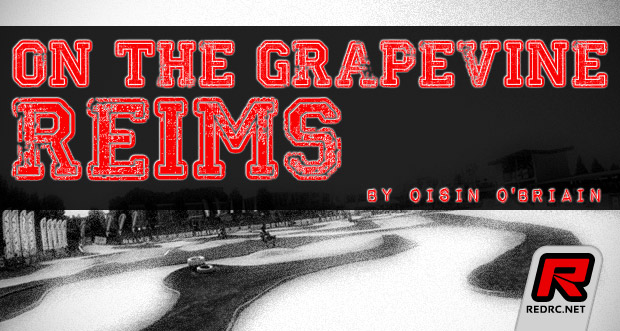 In 2009 while covering the 1:8 Offroad European Championships in Austria I remember looking through the timing sheets to see what drivers i needed to talk with before I got to work on my latest report and mixed in with Europe's elite Offroad drivers was a name I had not come across before. Asking around if anyone knew where I might find this Swedish driver I was directed to Frenchman Adrien Bertin. On finding Adrien, beside him was a small shy kid together with his dad. While this was my first encounter with Adrien's then 13-year-old protege, this kid already knew about winning having just become the European B Champion. Having had to direct my question down at this little figure, with Adrien having to provide most of the answers, last weekend, 5-years on from my first encounter, I was directing my questions up at a much taller and confident driver asking him for his thoughts on a race that had just seen him become the 22nd member of Europe's most exclusive group of racers.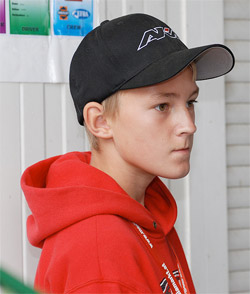 The group – European Champions, the driver – David Ronnefalk. While I still classify myself as a relative newcomer to the international racing scene and particularly Offroad, it was nice to have had the opportunity to see David's career develop from the young emerging driver to the established force he is now. I am delighted for his father, and all round nice guy, Pierre, (only wish I had been able to repay my father in similar way but unfortunately in my situation there was a major factor lacking – talent!!) and for Adrien who showed so much such faith in this young kid. Having suffered the pain of coming so close last year, the way the entire team approached this year's championship was impressive, David was so focused and confident (not in an arrogant way) in his ability to win the race. On congratulating Adrien or 'Daddy No.2' as I called him, it was clear to see this was not just a great result for him as head of Orion, Renaud Savoya making it a 1-2 finish for the engine brand, but also a very proud day for him as an extended member of the Ronnefalk family.
******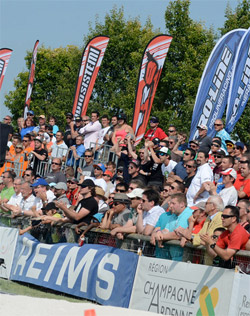 I have to admit I am not a big fan of EFRA events. I have no issue with crowning European Champions or with any of the drivers who make these events part of the annual summer holidays. My issue is the events are all about rules rather than ensuring that drivers, 90% of whom are there at their own expense and are there for the fun rather than seeking to join David in EFRA's website's hall of fame section. The events are generally outdated. Traveling to Reims my expectations were pretty low for the race as the last time we attended a European Championships in France (2010 Electric Touring Car) it was one of the worst rc races I ever attended. Sitting in the media tent in Reims early in the event chatting to our good colleagues from Neo Buggy we made a rare observation, this event had an atmosphere and an all round good vibe going on. While it would be nice to think this was an EFRA led initiative, I think its best to direct all the credit and compliments at the Reims Enduro Model Car club. For sure the great weather helped things, although I remember wearing shorts on my last French Euros visit!, but it was all the little things that gave the event that good feel vibe. A good sound system pipped out an upbeat and modern sound track, the grandstand was a wash with flags that added great colour and they even had a guy to warm-up the crowd before the finals – it was all in the attention to detail. A person who is a lot more familiar with French events, Renaud Savoya, who gave the largest crowd I have witnessed at permanent rc venue plenty of reasons to be excited and make noise, described the whole atmosphere of the event as 'Amazing' complimenting the club on a 'great job'. So hats off to Reims EMC for a great job – best Euros I have been too. While I am sure the club are taking a well deserved break now from their hard work I just have one request, when you find the energy would it be possible for you to draw up a handbook on how to run a European Championship and hand it over to EFRA.
******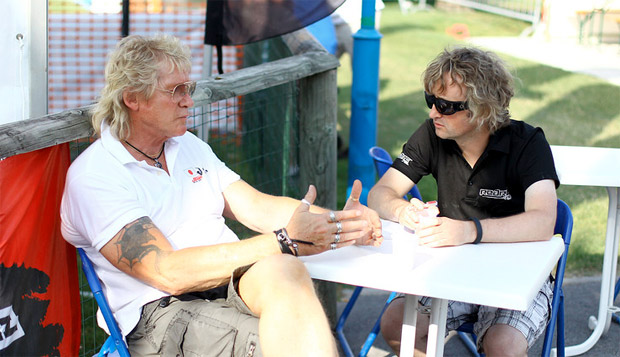 On the subject of EFRA it was good to see Dallas Mathiesen in attendance. I haven't seen Dallas since the 200mm World Championships in Bangkok last November when unknown to himself and everyone else he suffered a heart attack. Looking well and a little more trim now, I am glad to report that other than having to consume a rather large amounts of tablets and cut out some racer foods he is doing well. Grabbing a coffee at the same time as the man who heads up both EFRA and the world's governing body IFMAR I took the opportunity to take out my pen & note book for our 'quick chat'. Afterwards I was asked by a fellow scribe what I was talking to Dallas about for the last hour and a half! My first ever encounter with Dallas wasn't a great one. It was during the 200mm European Championships in Madrid in 2007. Even the American secret service were having trouble getting a hold of timing sheets from the host club so I approached Dallas who I only knew at this point to see. His response was to be honest a little disappointing but eventually I was granted access to have a look at the time sheet but I couldn't leave the timing room with a copy! Anyway since then I have built up a good relationship with Dallas and as I told him over our coffee while I don't agree with how the sport which he leads is run and promoted I would always be happy to have a beer with him or a Guinness if he ever decides to come to Ireland (thats where we keep the best of the black stuff). While we talked about many points which I could run the risk of getting writer's cramp if I attempted to try to covering them all, I was more interested in how Dallas viewed where the sport was headed. He knows that events are becoming more and more dependent on local drivers to fill up the places, in part due to the current world economic difficulties, but also due to rules giving the example of onroad nitro tyre where additive has been very detrimental to the sport's original class.
With EFRA and IFMAR having a bit of an image problem, a common view among racers being that its just a travel club for old men, Dallas is aware that they need fresh blood to bring new ideas to the table. It is no secret that after many years at the top and now in his mid 60s the Swede is ready to pass over the mantle to someone else but he said finding someone who would have the trust of the Federations, manufacturers and the drivers, whom he said together with their girlfriends or wives are the main sponsors of our sport, it is not so easy. Making it clear that ultimately it's not his choice whether he stays or goes or who replaces him he said he can certainly suggest a replacement. Asked if he had anyone in mind he told me he did approach David Spashett. As a racer David's experience needs no explanation but what the multiple World Champion also brings to the table is a vast knowledge of the industry having carved out a successful career for himself with Horizon Hobby. With a young family he declined the offer which Dallas said is totally understandable.
The role of IFMAR President is voluntary and while expenses are covered Dallas said it still ends up costing money. A Youth Co-ordinator, Dallas' day job sees him run a youth centre in his home town with responsibilities for 9 staff and after 40-years of doing it he said he is still having fun working with the kids, many if whom remind him that their parents remember him from their time at the centre. Describing his role in the rc world as a 'thankless job', he said no matter what he tries to do he is always going to be the loser and then there is the time it takes up which eats into to his own private social time. An example of this was the 138 e-mails he said he had to deal with in relation to tyres for the 1:10 Offroad World Championships. To clear up a point, Dallas wasn't complaining but more highlighting why attracting fresh blood is no easy task. In 2008 I made a presentation at the EFRA AGM as to how the sport could move forward in terms of making a better show with the ultimate aim of attracting more newcomers. Eventually politics came into play and the idea went no further, although Dallas said it did lead to the establishment of their media partner programme which now live streams each Euros over the Internet. As a result of this frustrating experience I went on to focus my ideas into the then fledgling Euro Touring Series which I think is fair to say has gone on to enjoy reasonable success! In Dallas' own opinion IFMAR needs to become a more professional organisation, something that in this modern age is the norm throughout other sports governing bodies. You can't fire a volunteer for failing to do something but a professional can be held accountable. The 1:8 World Championships in Argentina at the end of last year is the perfect example. Dallas was forced to cancel his trip to Argentina due to his heart problems, but as I told him in my opinion the host club did a fair job but IFMAR, who the racers and manufacturers put their faith in to ensure we had an event worthy of crowning a World Champion, fell well short of their duties and obligations to their customers, the racers, but no one will be held accountable. He said for the future he would like to see a system more similar to how the Olympic Games are selected, with each block putting forward a suitable candidate with the host picked on merit rather than on the fact that we have to have a race this time round in a particular part of the world.
******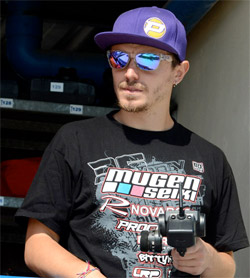 Talking to Robert Batlle, originally about how life has been as a World Champion and about his new model shop in Barcelona, the conversation ended up being very similar to the one I had with Dallas a few days earlier – the future of the sport. I was quite impressed by Robert's grasp of things. The Spaniard thinks a lot more could be done to promote the sport adding that while winning at the top level in r/c requires a level of dedication similar to that of an athlete its 'sad' that it is not seen as a 'real sport'. He said instead of running the biggest showcase for our sport, the World Championships, in a field in the middle of nowhere we need to bring these events to the cities where the people are already there. Catching just a fraction of a percent of these people's attention is going to have a far greater benefit to the handful of people who happen to stumble upon the race in the field. With a degree in Management, Robert knows that such an undertaking would be no easy task as if it was someone would have already tried it but he said if the sport is to progress and attract new customers it needs to take things to such a level. Unfortunately we both share the same view that even if someone convinced the likes of RedBull to get involved in the sport we don't have the infrastructure and expertise in place to handle such an opportunity.
It was interesting when I asked Robert about life as World Champion that while he said it was good and he has been inundated with invitations to race all over the world, he thinks that to crown a true world champion there should be more that one race. Feeling the current format of racing one event every two year's should be retitled the World Cup, he would like to see a multi round World Championship run at a selection of tracks that provide different challenges thereby at the end of the season the driver and manufacturer who masters the varying condition the best is a more truly worthy World Champion. He also said the TQ rule should be revised so as the driver who works hard for that honour should be rewarded with a place in the final. In Argentina Elliott Boots was Top Qualifier but a problem in the Semi meant we never got to see the British driver have a go at the title. Robert also feels that having to contest your national championship to secure a world's place is a little outdated adding that you don't see Alonso having to race in Spain to ensure he can do next year's Formula 1 World Championship. As a professional driver his schedule is already extremely busy joking that he needs some weekends off to see his girlfriend who he says understands its his job but still wants to be able to spend some time with him. He also said mentally its very hard to race continuously one weekend after another and while he will be working in his RBR36.com shop he was looking forward to the next two weeks being free from racing duties referring to the period as being as good as a 'holiday'. Having ventured into electric offroad this season, Robert hopes to make his World Championship debut in the class this year. The reason for the doubt over him traveling to the US is that so far he only has a place for 2WD and not 4WD. Having won the single event Spanish 4WD Nationals earlier this year and also in contention for the multiple round 2WD Championship title which has one race left to run, he said Spain was allocated one less place for 4WD hence the reason he does not yet have an entry. Based on racing just 2WD, and with 4WD sure to be the class he would be more competitive in, he said the cost of traveling to California for just half the event may not make financial sense for Yokomo.
******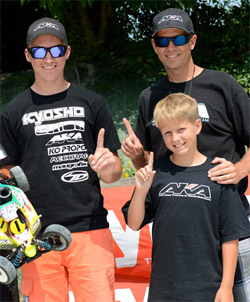 It was good to see Mark Pavidis back over for the Euros, AKA having won the title for the first time last year. Tyre choice was a major factor on the unique chalk surface Reims track and AKA were by far the most popular tyre with them having double the amount of users to their closest competitor. Asking Mark how they decide what tyres they bring to such an event he explained that their team drivers give them an order 2-months before the event. The reason for the long lead time is so that they can try to ship each drivers tyres in together with an order to AKA's distributor in the respective country as Mark pointed out all the international shipping fees can quickly add up. In addition to the tyres the drivers receive, Mark also brought some extra sets with him just in case. While he can not magically make up a specific tyre for the conditions on the day, Mark said by watching his 6-directly sponsored drivers on track he can often make suggestions regarding changing compound or insert. He said watching drivers running on tyres from other brands can also be very beneficial as his drivers don't always get the opportunity to watch them as they are either in the same heat or busy preparing for their next run and comparing the two can help in making possible changes for subsequent runs.
Traveling to the Euros with Mark was his 11-year-old son Ryan for whom the trip marked his first time to fly outside of the US. Mark said he struggled for the first three days with jetlag but said he is getting on better than when he made his first trip to Europe. Traveling together with the legendary Mike Reedy to Birmingham in the UK in the early 1990's for the Reedy Race of Champions he said he found the experience a huge culture shock and he didn't want to eat any of the food because it wasn't what he was used to in the US. Mark said Ryan, who is a keen nitro racer and he hopes to bring to the US electric Offroad National later this year, is mad to help out particularly with gluing tyre. Joking that he could go glue Proline tyres, he said he gave him the role for the week of collecting and delivery tyres to AKA's team drivers. Talking about the Reedy Race I didn't realise that Mark is the only driver to ever win both the offroad and onroad versions of the World famous race. He also informed me that he is also the only driver to be US National Champion in both onroad and offroad. The only driver to win Offroad World titles in nitro and electric, he said he always jokes with David Spashett about titles as David claims he has been World Champion of three classes, 1:12, Pro 10 and electric Touring Car but the year he won in Touring Car it was a World Cup race which was the precursor to the proper World Championships. Mark said on this technicality he has three World titles too as he one the World Cup of nitro Touring Car before it became a full championship in 2004.
Have an opinion on the topics discussed? Leave them in the comments below.
Oisin O'Briain is Red RC's Event Editor. Traveling the world reporting on some of the biggest races in the sport he regularly chats with top drivers and key industry figures and in his new column 'On the Grapevine' he will try to bring readers an insight into the latest talk that is doing the rounds in the paddock along with the odd bit of trivia information that comes to light.
The views and opinions expressed in this column are those of the author.
---