August 18, 2013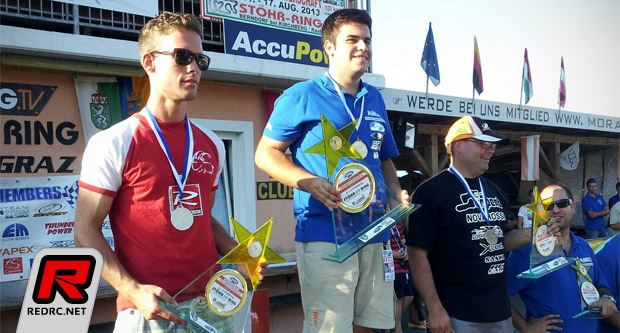 The 1/10th 200mm 'A' Euros were held this weekend at the Stohr Ring near Kirchberg in Austria with 89 drivers in attendance. Practice would take place under changeable weather conditions with heavy rain stopping running a number of times but qualifying and the finals were all run under sunny dry conditions. Qualifying would go the way of newly crowned 1/8th European Champion Jilles Groskamp with his Shepherd, narrowly beating out Eric Dankel (Capricorn) with Dominic Greiner (Serpent), Toni Gruber (Serpent), Dario Balestri (KM) and Alessio Mazzeo (Serpent) completing the top 6, separated by only 1 second.
In the Semi finals it was Eric Dankel who was first to book his place in the final, winning his 20 minute encounter from Biagio Spataro (Xray), with Mazzeo in 3rd, this would be the fastest of the two semi finals and would see the end of the race for former European Champion Dirk Wischnewski (Xray). In Semi A Dario Balestri would take the win and pole for the main final from Daniele Ielasi (Capricorn) with Patrick Nahr (Shepherd) in 3rd and Adrien Bertin (KM) in 4th. Pole man Groskamp would hit trouble in the final laps while in a bump up position dropping him to 5th but with a time too slow to get into the main final and so he was out.
On to the main final and following the start a get together just behind the leader Balestri saw Dankel penalised, given a 10 second penalty which would drop him to last place. Up front and Balestri was in control until his tire stop which saw him give up first place to a charging Mazzeo. Mazzeo would be chased down by a recovering Dankel who at the end of the race would end up only 2 seconds down on the Italian who would claim his first European crown, with Serpent team mate Mark Green taking 3rd from 9th on the grid more than a lap down, the first 1/10th A European title for Serpent since 2004 when lead designer Michael Salven took the crown in Portugal.
Final Results
1. MAZZEO Alessio – 141L 45:04.684 (Serpent/Max)
2. DANKEL Eric – 141L 45:06.833 (Capricorn/Novarossi)
3. GREEN Mark – 140L 45:13.359 (Serpent/Novarossi)
4. NÄHR Patrick – 140L 45:17.208 (Shepherd/Sonic)
5. BRANSON Kyle – 139L 45:03.601 (Capricorn/IDM)
6. BALESTRI Dario – 139L 45:09.036 (KM/Novarossi)
7. IELASI Daniele – 139L 45:14.260 (Capricorn/IDM)
8. BERTIN Adrien – 125L 42:30.594 (KM/Orion)
9. HAGBERG Alexander – 109L 36:02.788 (Xray/Orcan)
10.SPATARO Biagio – 47L 15:35.277 (Xray/Gi-Mar)
Image: Hermann Dankel
---