August 13, 2013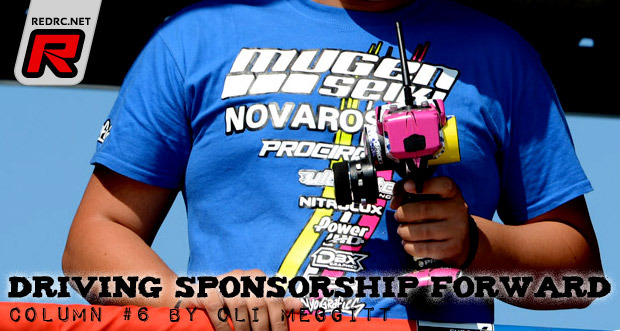 When I began racing in the late 1990's, the racing scene was (as you'd expect!) very different from what it is today.  One of the biggest differences I've seen has been the evolution of supported and sponsored drivers. Back then, I wasn't aware of any "full time" drivers.  There were a number who worked for a manufacturer or distributor, and sponsorship was something that drivers aspired to achieve.  Outside of the top echelon of drivers, someone may have been fortunate to get a bit of money off with their local model shop, but that was usually the best you could hope for.
In those days, before the internet became mainstream, what mattered the most to companies were race results.  People read about races a few months afterwards in just a one or two page report in a magazine.  Seeing their products being used by the winning driver and having their logos on the winners car was hugely important.  At the race tracks, this often came across as the 'team' drivers being less approachable as their sole focus was on winning the race.
Of course, today, winning is still very important and I'm sure a huge amount of sales are generated through consumers seeing the results of big races.  However, the role of a team driver has certainly changed.  They are now seen fully as representatives of that company in every way.  With so much extensive event coverage of races these days, anything a driver says or does can be in the public domain very quickly, and scrutinised by RC fans around the world.  Drivers are encouraged to take to internet forums, Facebook and Twitter to keep their followers updated with their results, their opinions and also to provide help and advice to drivers who have purchased their brand's products.
At the track, drivers need to appear approachable and ready to help out others with setups, information, or just have a friendly chat.  We've also seen a big movement recently towards custom t-shirts and clothing – making sure they have all the correct logos on so people both at the meetings and when looking at photos know who they are representing.
There's also been an increase in the number of supported and sponsored drivers over time.  Whilst all the above still holds true, companies have also realised the business sense in 'sponsoring' more drivers.  They realise that they could support a driver, provide them with a small discount on their products, but know that this means whilst they potentially make slightly less money on that sale, they have a guaranteed sale and the increased likelihood of that driver returning to them in the future.
The end goal of any form of sponsorship – whether it is for the elite, full time drivers whose 'day job' is racing and developing products, or a good club level driver who gets a slight discount on their next pack of batteries – is to generate more brand awareness and sales.  Racers today appreciate that often, more than just results count and companies are very aware of this too.  As our sport has evolved, so too has sponsorship and the way companies approach sponsorship.  And no doubt, as the sport continues to grow and change, sponsorship will remain a key part and continue to change also.
Have an opinion on the topics discussed? Leave them in the comments below.
Oli Meggitt is a race organiser, announcer, RC racer and has also been known to stand and talk in front of a camera. Now a columnist for Red RC you can read his thoughts, insights and ramblings fortnightly.
The views and opinions expressed in this column are those of the author.
---