August 30, 2013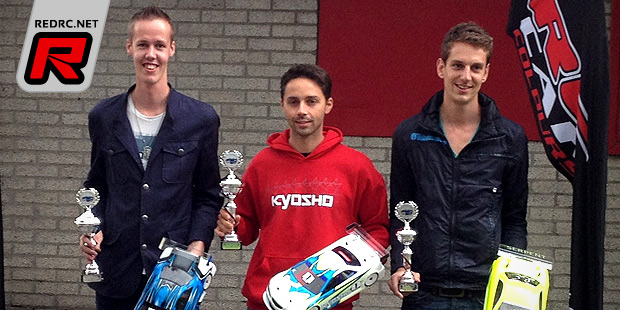 The fast-flowing track of the MAC De Baanbrekers club in Rucphen was the venue to host the fifth round of the Dutch touring car stock nationals. Gaining enough points would mean the championship could be decided early in John Bruins' favour with round 6 still to come late September. On Saturday most participants made the journey down South to get some practice before the event on Sunday, however the day would prove to be a complete wash out with only a few drivers been brave enough to go out in the rain. With the weather forecast for Sunday being overcast arriving at a dry track in the morning was a big relief to many drivers and the action got under way soon.

After all three qualifiers were done John Bruins took TQ with quite a margin over the other drivers. The fight for second spot would prove to be a much closer affair with Rob Janssen putting in a clean run just pipping 10 year old, up and coming talent, Milan Holthuis by half of a second. Milan, making only his third appearance at a Dutch electric national event was running a loaner Kyosho TF6-SP from former ETS winner Vasco Christiaanse and showed his true potential adapting quickly to the difficult circumstances and limited practice time available prior to the event. Luke Van Essen would put his Serpent S411 in fourth spot on the grid.
The finals would prove to be fairly straight forward for Kyosho team driver John Bruins, who won all three finals start to finish. The win also hands him the 2013 13.5T Stock Dutch national champion title with one round to go. The fight for second and third spot was far more exciting with three drivers battling it out. Milan and Luke pressured Tamiya driver Rob Janssen in the first two finals, however Rob was able to withstand and never buckled, even after an attempted overtake by Milan resulting in a small coming together in the first final. Rob therefore claimed second spot on the podium and this also cemented his second place overall in the championship. With the third spot on the rostrum still up for grabs, candidates Milan and Luke who were gearing up to put on a show both had good starts and followed each other closely throughout the first minute. Sadly, the dream of claiming his first podium at an EC national race would go up in smoke with Milan's motor failing after around two minutes. Luke was all too glad to profit from Milan's misfortune and would finish the leg in third place securing him the last podium place for this round. The finale of the 2013 season, taking place at the RC Hotwheels track in Deventer, is going to be exciting for all involved as the third place in the championship is still up for grabs.
Thanks to John Bruins for sending the report.
---