August 19, 2013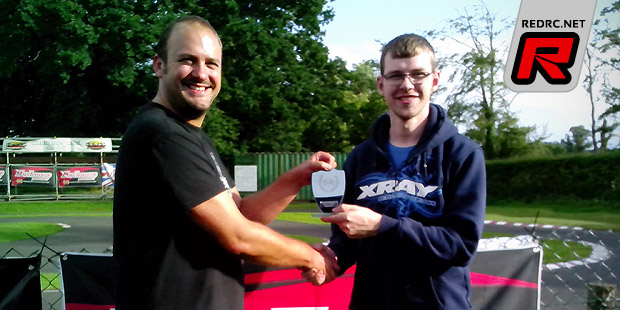 Last weekend the Much-More UK GP English round took place at the CRMCC circuit in North West England. The English round combines with a Scottish round, which was held at the Stonehaven circuit in June, to determine the overall series champions. There were over 50 entries this year and some overall series trophies were up for grabs. The practice day on Friday and qualifying on Saturday and Sunday morning saw persistent rain and a wet weather track which meant the new Volante control tyre would have to wait until the finals on Sunday afternoon before being bolted onto the cars.  The vast majority of drivers managed to pick up points from the four qualifying rounds required in the difficult conditions and then switched to the control tyre for the finals as the track quickly dried out. In 13.5T John Simpson brought home the victor with Callum Keith and Chris Mitchell completing the podium. In the Spec class Paul Davidson was the day's winner in front of David Walter Fraser and Joe Herring. Last but but least the Mini class top three sees Paul Davidson in front with Keith Anderton and Chris Briggs in tow.
Top 3 Modified Much-More UK GP:
1. Alan Bickerstaff – Associated
2. Scott Kenny
3. Graham Kenny
Top 3 13.5T Much-More UK GP:
1. John Simpson – Xray
2. Callum Keith – Xray
3. Chris Briggs – T.O.P.
Top 3 Spec Much-More UK GP:
1. David Walter Fraser
2. Alex Keith
3. Joe Herring
Top 3 Mini Much-More UK GP:
1. Keith Anderton – T.O.P.
2. Chris Briggs – T.O.P.
3. Andrew Walters – T.O.P.
Source: Much More [muchmoreracing.com]
---