August 20, 2013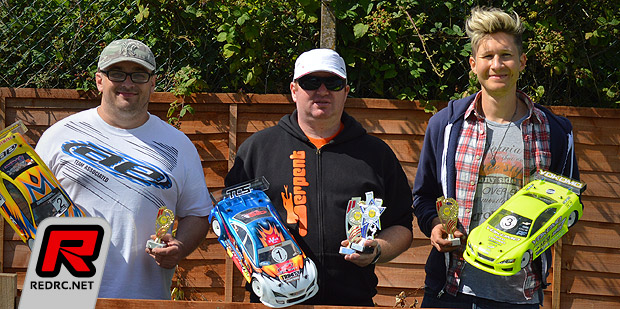 Round 5 of the BRCA Clubman Series electric on-road championship was held at the midlands track of Stafford. At a mild track temps, this smooth flowing track is well known for its low grip and the challenge for drivers to control tyre management and get the best outs of the two runs they have before there new tyres go to waste. Saturday not too many showed up however the track has been used on a weekly basis which means the track didn't need too much cleaning up. Race day on the Sunday came around with another scorching hot day of 32 degrees air temp. Much hotter than Saturday. Entries coming all over the UK of 60 drivers came down to the fast flowing track to see how they compete against each other.

Round 1 of qualifying started with the 17.5 Blinky racers going first. Gavin Clinch setting TQ with Jason Butterfield just behind him. 13.5 Open followed local driver Andrew Robson setting TQ with Liam Brooks and Ian Whittingham following closely.
Round 2 saw the temperatures stay the same but the track was still bedding in which meant the grip was increasing. Gavin remained pole man in the 17.5 class however Jason still staying with the pole man only 4 seconds behind him and David Hough following by a 10th of a second behind second. Local driver Andrew still managed to keep pole with this flowing managing to keep his tyres within their limits but Liam following behind by less than a half a second.
Round 3 was the hottest point of the day and drivers are now watching their tyre temps to make sure they don't overheat them. Gavin Clinch setting an amazing time now becomes the pole sitter on the last run before the finals with David coming second behind pole man by 3 seconds and Dominic coming 3rd. Ian Whittingham managed to find some speed and now takes FTQ with Andrew Robson and Liam Brooks coming 2nd and 3rd.
Qualifying 17.5 Blinky top 10
1. Gavin Clinch – 18/308.51
2. David Hough – 18/311.04
3. Dominic Skinner – 18/312.01
4. Jason Butterfield – 18/312.57
5. Nigel Shaw – 18/314.21
6. Nick Turner – 17/301.91
7. James Stewart – 17/301.93
8. Bob Burr – 17/303.05
9. Daniel Bostock – 17/308.28
10.Kris Kennedy – 17/309.51
Qualifying 13.5 Open top 10
1. Ian Whittingham – 19/306.48
2. Andrew Robson – 19/307.22
3. Liam Brooks – 19/307.29
4. Aaron Rose – 19/312.66
5. David Hall – 19/312.87
6. Luke Burr – 19/315.50
7. Chris Lovely – 19/317.17
8. Dale Burr – 18/300.99
9. Nathan Wilson – 18/302.09
10.Jordan Norwood – 18/306.41
In the A final of the 17.5 blinky class, both legs Gavin Clinch pulled out a massive lead sitting in the pole seat with David and Dominic battling each other for 2nd place. There were a few incidents along the way with this class being so close with regards to driving skill and equal speeds down the track. This drivers track really testing the racers to the edge to find out who was the better driver.
17.5 Blinky top 3
1. Gavin Clinch
2. Dominic Skinner
3. David Hough
In the A final of the 13.5 open class, Andrew, Ian and Liam all went off together leaving the rest behind setting some fast times with battling out first place with each other. There was a bit of tagging and some close incidents between all there drivers, but with there great skills they managed to not do too much damage with each other and local driver Andrew Robson managed to take the overall win.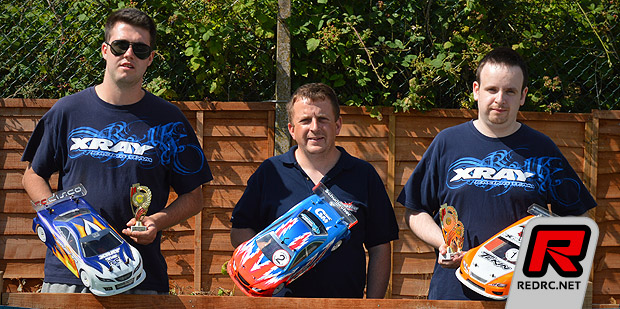 13.5 Open top 3
1. Andrew Robson
2. Liam Brooks
3. Ian Whittingham
The final round of the BRCA Clubman series is at Bedworth on the 1st September 2013.
Thanks for Jordan Norwood for sending the report.
---