August 5, 2013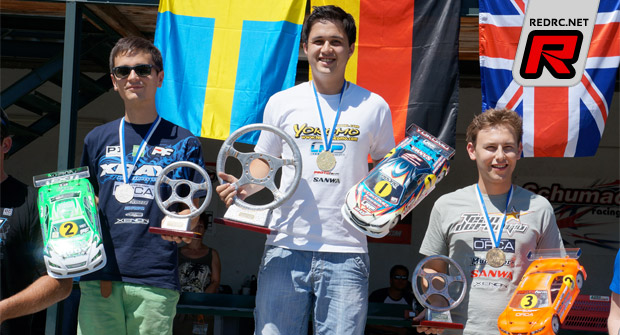 The EFRA 1/10th scale touring car European Championships was held this week in Portugal attracting 60 drivers. Qualifying started and it all looked familiar at the top with Yokomo driver Ronald Volker dominating the first two Heats as he TQ'd both, but on Saturday morning Alexander Hagberg showed that somehow Team Xray has found the way to reduce the gap from Ronald's pace and took the 3rd round. Now all was to be decided until the last round, since Hagberg had the best 21 Laps time. In the end Ronald didn't fail and TQ'd the last 2 heats and was declared the TQ of the race. Looking at the timesheets, the expectation for some very tight racing in the finals surrounded the pits.
A main line up
1. Ronald Volker – Yokomo/LRP
2. Alexander Hagberg – Xray/Orca
3. Elliot Harper – Durango/Orca
4. Jilles Groskamp – Tamyia/Orion
5. Marc Rheinard – Tamyia/Muchmore
6. Viljami Kutvonen – Awesomatix/LRP
7. Bruno Coelho – Xray/Nosram
8. Yannic Pruemper – Yokomo/Muchmore
9. Frederik Sudhoff – Awesomatix/LRP
10. Marco Kaufmann – Xray/Orca
Onto the finals on Sunday and from the start of the first leg it was clear it would be a 2 person battle for the win between Volker and Hagberg. Despite pressuring the German Hagberg couldn't make his way passed and so Volker took the win ahead of the Xray driver with Elliott Harper taking 3rd. In the 2nd main it was the same break away at the front, this time Hagberg was able to pressure the Yokomo driver much harder but with Ronald not making a mistake the Yokomo driver would again take the win, this time by just a tenth of a second to claim the title with Hagberg taking 2nd and again Harper third. With the win confirmed Volker sat out leg 3 and so the battle for the final podium spots was on between Hagberg and Harper. A3 was to be Hagberg's race, the Swede taking the win by a clear margin of Harper with Awesomatix' Freddy Sudhoff taking 3rd spot. The result would give Hagberg 2nd overall with Harper taking the final podium spot in 3rd.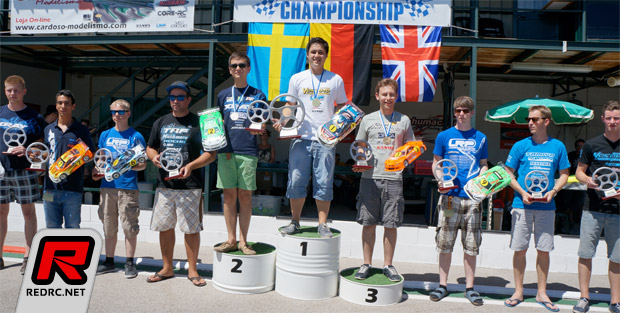 Final results
1. Ronald Völker – Yokomo/LRP – 2pts
2. Alexander Hagberg – Xray/Orca – 3pts
3. Elliott Harper – Durango/Orca – 5pts
4. Frederik Südhoff – Awesomatix/LRP – 7pts
5. Jilles Groskamp – Tamiya/Orion – 10pts
6. Yannick Prümper – Yokomo/Muchmore – 11pts
7. Marc Rheinard –  Tamiya/Muchmore – 11pts
8. Viljami Kutvonen – Awesomatix/LRP – 12pts
9. Bruno Coelho – Xray/Nosram – 13pts
10.Marco Kaufmann – Xray/Orca – 16pts
Thanks to Jorge Simoes for the report.
---