August 8, 2013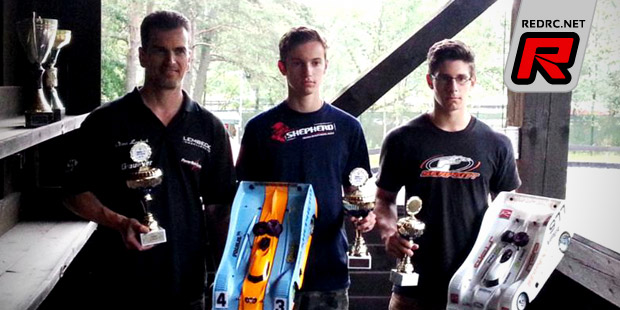 Last weekend saw the 6th and final race for the Southern German regionals, hosted by the famous MAC Nürnberg club. With scorching hot temperatures and beautiful weather right up to the finals, racing action in the 1/10 IC and 1/8 IC classes was close and intense. Due to a rough qualifying with some incidents caused by traffic 15 year old Class 2 racer Max Günther had to start his finals day in 12th place and therefore in the quarter finals. Max was able to win his final easily leaving a number of Class 1 racers behind him and he progressed into the semifinals where he faced a very strong field of mostly Class 1 racers.

Finishing 4th in the semi secured Max the sixth starting position in the main final grid as the best Class 2 driver and best youngster. Right before the 1/10 scale final was about to start, it began to drizzle. The race director decided to shorten the main final to 15 minutes in an attempt to get both finals through before the expected thunderstorm would hit. The 10th scale final was run in very mixed conditions between almost dry and almost wet and tyre choice was a bit of a lottery. After 15 minutes Dominik Schöffel crossed the finish line in first place followed by Michael Mahlmeister and Martin Schöffel.
By the time to start the 8th scale final, the heaven opened again flooding the track so many drivers opted to start on full wet tyres. In a thrilling 15 minute battle Max Günther (Shepherd/Reds) was able to get into the lead and win the race by a margin of 3 seconds over Oliver Lembeck (Mugen/Novarossi). Toni Gruber (Serpent/Novarossi) completed the podium. By winning the Nuremberg round Max also secured himself the overall Class 2 championship by winning three out of five races.
Source: Shepherd [team-shepherd.com]
---