August 24, 2013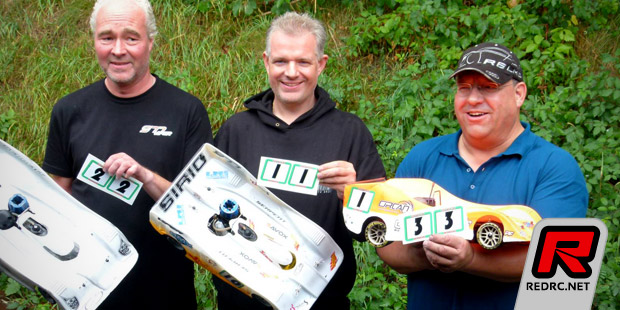 Christian Wurst and John Lenaers are the Western German 1/8th nitro on-road champions. Serpent racer Wurst took the title and the prestigious #1 start number for the 2014 season in class 1, Mugen driver Lenaers caught the title in class 2. The decisions about both titles were taken at the fourth and final round at Oberhausen that, for the first time in the 2013 season, was spoiled by rain. Enjoying a permanent #1 start number in 2013, Uwe Baldes entered the final race as the reigning champion and also as the leader in the class 1 ranking after three rounds, equal on points with Xray racer Claus Nauth, with Karl-Heinz Meister on the third spot. The initial position was clear, seven racers were able to fight for the crown in Oberhausen.

Following an excellent day of practise on Saturday, slight rain hit the 234 metres track on Sunday morning right at the start of heat one which forced the racers to swap to damp tyres. It did dry up for some moments but not all of the racers were lucky to have a dry heat so only the wet rounds counted for the qualifying ranking. In the end it was Frenchmen Alain Levy (Mugen) who captured TQ ahead of Tobias Hepp (Xray) and Claus Nauth (Xray) in the field of 14 class 1 racers.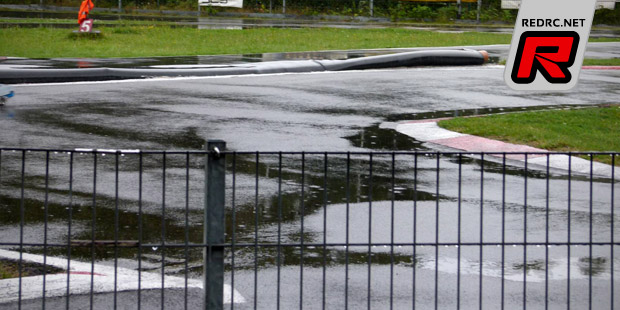 After the lunch break is was raining cats and dogs and during the class 1 final it increased even to a real rainstorm. Christian Wurst made a clever move and did only one lap in his semi final which was enough to enter the final race and to catch lots of points finally for fifth position without anymore racing of him. Only four racers plunged into the water games of Oberhausen. Thomas Kroeger was the first leader and floated with his Serpent until his engine was drowning out. The trio which was left alone in the rain was Uwe Baldes, Ralf Vahrenkamp and Martin Baumann. Finally Ralf Vahrenkamp won on home soil three laps in front of Uwe Baldes who lost the chance to win when he had to replace a washed-out first gear one-way bearing. 15 laps down Martin Baumann crossed the finish line with his Serpent on third.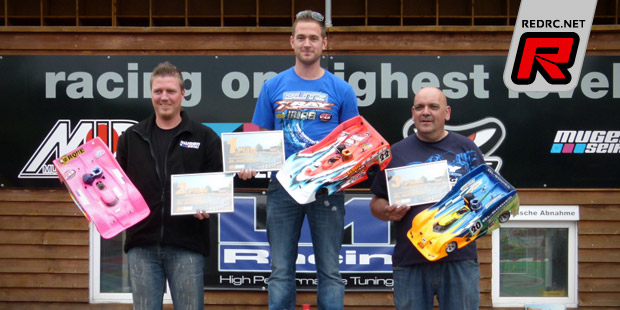 A total of 22 class 1 racers joined the 2013 competition in Western Germany, one of five regional championships to qualify for the German Nationals which will be held in Kirchhain from 12 to 15 September. As usual a few racers entered only two rounds, the minimum to qualify for the nats. The season opener at Bad Breisig saw Michael Salven (Serpent) winning ahead of Belgian Steven Cuypers (Mugen) and Christian Wurst. Salven did it again at round two in Dormagen with Frank Schewiola and Shepherd fellow Thilo Toedtmann joining him on the podium. An exceptional result was achieved at round three in Hamm. The podium was firmly in the hands of foreign drivers. Dutch John Ermen captured victory with his Xray, followed by Steven Cuypers and Luigi Pili, another Dutch Xray driver. With his win in Oberhausen Ralf Vahrenkamp caught second spot in the final ranking behind Christian Wurst and in front of Uwe Baldes.
Class 1 final ranking:
1. Christian Wurst – Serpent/Sirio – 351 points
2. Ralf Vahrenkamp – Serpent/Novarossi – 349
3. Uwe Baldes – Mugen/Orcan – 348
4. Claus Nauth – Xray/RB – 344
5. Karl-Heinz Meister – Serpent/Xceed – 341
6. Rainer Rosskothen – Mugen/Novarossi – 339
7. Martin Baumann – Serpent/Novarossi – 337
8. Frank Schewiola – Shepherd/O.S. – 334
9. Luigi Pili  – Xray/Picco – 332
10.Tobias Hepp – Xray/Orcan – 329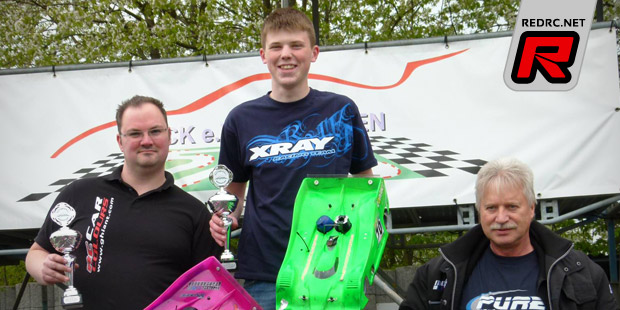 In class 2 ten drivers were able to catch the title. Young Philipp Roemer was leading the ranking after three races but did not enter the deciding round at Oberhausen. 14 racers took the competition with Belgian Tim Vogels (Mugen) taking TQ, followed by Capricorn racer Michael Woeste, Joachim Kuehn (Xray) and top favourite John Lenaers. Following the two semi finals eight drivers qualified for the final but only five made it to the start of the 20 minutes wet race. Finally Joachim Kuehn brought his Xray home on first place to celebrate his first ever victory in RC racing. Already eights laps down was John Lenaers on second place, followed by Michael Woeste and Klaus Kirschner.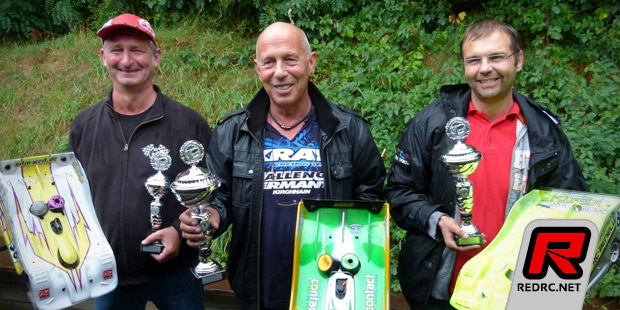 For John Lenaers the second position was enough to catch the crown in class 2 with fellow countryman Tim Vogels in second and Joachim Kuehn as the best German in third in the final standings. In Bad Breisig John Lenaers won at his first appearance when he was joined on the podium by Hans-Peter Holl (Serpent) and fellow countryman Nico Vanderwynckel (Mugen). Full points for winning round two at Dormagen were collected by 16 years old Philipp Roemer who left Tim Vogels and Reinhard Zick behind in second and third respectively. At the Hamm round John Lenaers was back for round three to celebrate his second victory. Tim Vogels finished second again to make it a 1-2 for Belgium. Philipp Roemer on third was able to defend the reputation of the German 1/8 nitro racers at Hamm.
Class 2 final ranking:
1. John Lenaers – Mugen/RB – 361 points
2. Tim Vogels – Mugen/Picco – 354
3. Joachim Kuehn – Xray/Picco – 351
4. Heiko Kube – Mugen/Picco – 346
5. Philipp Roemer – Xray/Orcan – 344
6. Michael Woeste – Capricorn/Novarossi – 339
7. Klaus Kirschner – Mugen/Picco – 338
8. Andreas Goebel – Serpent/Xceed – 337
9. Christian Roenicke – Mugen/RB – 336
10.Reinhard Zick – Mugen/Picco – 336
In the 2013 season a total of ten 1/8 nitro racers from foreign countries – Belgium, The Netherlands, Luxembourg, France and Bulgaria – entered the Western German Championship which is well known for its high level competition in a friendly atmosphere. John Lenaers, the new class 2 champ, expressed clearly that he enjoyed his races in Germany and he is confident that more country fellows will cross the border to race abroad in 2014, as well as Dirk Rischard expects more racers from Luxembourg to join him in his next year's German campaign.
Source: Nitro-West [nitro-west.de]
---