September 6, 2013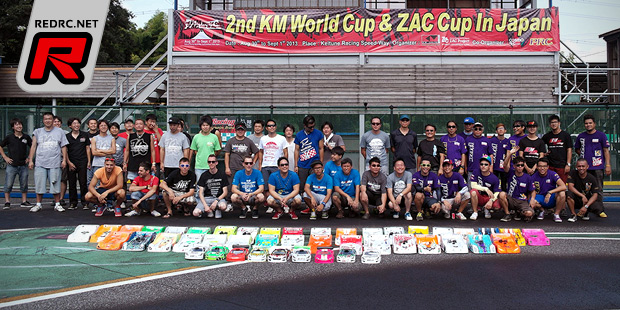 The 2nd KM World Cup & ZAC Cup took place at this year's IFMAR 1/8th nitro on-road track in Japan with drivers from China, Hong Kong, Japan, Thailand, Malaysia, England, Finland, Italy and Holland attending. Free practice for all drivers took place on Friday, a chance most drivers and teams made use of especially since some new cars where in attendance such as the KM K8 prototype and Hot Bodies' upcoming R8 kit. Saturday's qualifying was dominated by Meen V. who put himself on top of the 1/10th 200mm class with Jilled Groskamp controlling the 1/8th class. Sunday morning had the final round of qualifiers and while nearly all of Japan was affected by a big storm the Tokyo area had scorching hot temperatures with the track surface reaching near 50°C. After qualifying Meen V. took the overall TQ in 1/10th while the 1/8th class had Yokoyama taking TQ.

At the start of the 200mm final polesitter Meen was torpedoed by another car as he had a slow start. KM team driver Shimazaki took advantage of the situation and lead the 30 minute final from start to finish. Hong Kong based Hang took second while Azri from Malaysia grabbed the final podium spot.
The 1/8th semifinals started right after lunchbreak and with the temperatures raising more and more drivers suffered engine problems with the most prominent ones being Fukuta, Meen and Terauchi who missed the prestigious A main. Right before the start of the A final TQ driver Yokoyama and also Jilles had to withdraw from the race with overheated engines. The race win went to Japanese driver Shimo with Italian Raiola coming in second and 3rd Finland's Teemo Leino third. Next year the KM Wolrd Cup will be held in May 2014 in Hong Kong.
Source: KM [km-rc.com]
---