September 4, 2013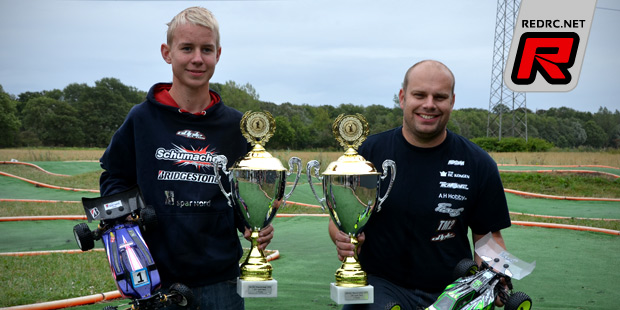 This year's seven round DRCMU off-road outdoor series came to an end with a Grand Finale at the challenging astro turf track of the Odense RC Minirace club. The DRCMU series this year has seen one of the most competitive for many years. Some experienced drivers, previous champions and some of the best touring car drivers have joined or rejoined the buggy scene giving the regular drivers serious competition. Typical Danish weather with a mix of heavy showers and sun was the icing on the cake, challenging drivers to some last minute tyre and setup changes. The special point system for the final race that saw additional points for the TQ and other achievements and with competition so close, four drivers could become champion depending on the outcome of this final round. As things unfolded Associated driver Jonas Kaerup finally got everything together after a mixed season with unstable results. He won the first to A final legs in the 2WD class with Torben Hoejfeldt (Team C) taking second place. Lasse Nielsen ended the race in 3rd position. After calculating the point for the 2013 season the 2WD championship went to Torben Hoejfeldt.
2WD overall top 5
1. Torben Hoejfeldt – Team C
2. Jonas Kaerup – Associated/Centro
3. Morten Iversen – Team C
4. Jesper Rasmussen – Schumacher
5 Jesper Bayer – Yokomo
The 4WD class had a very high level of competition to offer with the field being a mix of eager young drivers challenging the more experienced racers. Throughout the season the battles were primarily seen between young drivers Frederik Hovgaard and Jesper Rasmussen (4WD Champion 2012) and the former champions Kim Nielsen and Jan Larsen. Round 7 was no exception to that. Theoretically three drivers could take the championship so concentration was high. Starting from TQ position Jesper Rasmussen managed to win the first two heats and by that securing the win of the day and the overall 2013 Championship. 2nd place went to Kim Nielsen and 3rd was secured by Lasse Nielsen.
4WD overall top 5
1. Jesper Rasmussen – Schumacher
2. Frederik Hovgaard – Durango
3. Kim Nielsen – Xray
4. Jan Larsen – Durango
5. Lasse Nielsen – Team C
After a long and hectic season with fantastic racing and drama all the way to the last race, the 2013 Danish Off-Road Championship is now over. Young eager talents, an increasing number of participants with new tracks and clubs emerging add the level of competition and the 2014 season looks to be better than ever.
Thanks to Ulrich Rasmussen for sending the report.
---