September 24, 2013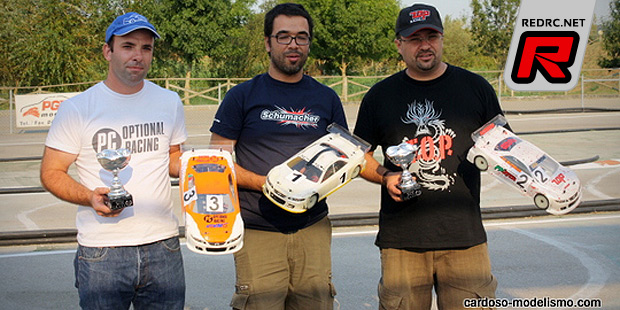 The 4th round of the Portuguese Electric Touring Car Championship took place at the Maiorca track, near Figueira da Foz. A total of 16 drivers attend the event, 9 in the 10.5T Stock class and 7 in Modified. In the Stock class, Ricardo Gama (Schumacher) took the TQ, winning 3 of the 4 rounds with Rui D'Almeida (TOP) and Pedro Canastra (Yokomo) in second and third respectively. The first Stock final saw a total domination by Gama, who had a flawless driving trough the 7 minutes final making his intentions clear to wrap up the championship by the end of the day.

The second Final was another story. Pedro Canastra had an excellent start and was suddenly at the rear bumper of Gama, putting constant pressure on the leader in search of an error by the front runner. This tactic worked out as Gama later on lost his cool and also the lead when he missed a braking point, letting Canastra by. A few metres behind Rui D'Almeida and Fernando Cardoso (Schumacher) were fighting for the 3rd place and for precious points for the veteran championship. Towards the end Gama made a great recovery and followed Canastra's very closely until a small mistake by the Yokomo driver, at the slowest part of the very demanding track of Maiorca, puts Gama on the lead again. Shortly after disaster stroke for Gama when his car lost a front wheel so the Schumacher driver had to retire. This handed Canastra the win in front of D'Almeida and Cardoso 3rd. In order to grab the day's win Gama now had to win the last leg and this time everything worked out well. Ricardo took off and never looked back taking the win in front of Canastra and D'Almeida. This handed Gama (Schumacher/Nosram) the win of round number four with Pedro Canastra (Yokomo/Nosram) and Rui D'Almeida (Top/Nosram). With four wins and four TQ's in four rounds, Gama also claimed is first National tittle in the Portuguese Electric Touring Car Championship Stock class. In the Modified class the win went to Bruno Coelho.
Thanks to Ricardo Gama for sending the report.
---