September 19, 2013
Beside the 1/10th 200mm class the recent ROAD On-Road Fuel nationals also had the 1/8th Open and Masters class to offer. In the Open class main it was Xray's Mike Swauger who took TQ and who lead the field into the 60 minute final with Paolo Morganti (Serpent) and Ralph Burch (Xray) in tow. Only minutes into the race Mike had a coming together with a lapped car damaging the bumper of his Xray which resulted in an unwanted pitstop to have his crew fix his RX8. In the meantime Morganti and Burch battled for the lead but once Swauger got his rhythm back he shifted into second gear in order to catch Burch and later on Morganti to take the lead. The number one spot swapped a couple of times until Mike ultimately got into the leading position to take the win in front of Morganti and Burch.
Open class top 3 result:
1. Mike Swauger – Xray/Picco
2. Paolo Morganti Serpent/Novarossi
3. Ralph Burch – Xray/Max Power
In the 'Old Dude' Masters class Dana Smeltzer (Mugen) was able to put his car in front not only in qualifying but also in the 45 minute final. Dana lead the race from the tone and left the carnage behind. Serpent's Joaquin Desoto Sr. had to defend himself against attacks from the pack but established himself in second place soon. At the end Dana secured the win some five laps ahead of Joaquin who had Jerry Rapp in tow who fought his way up through the entire field in order to take the last remaining podium spot.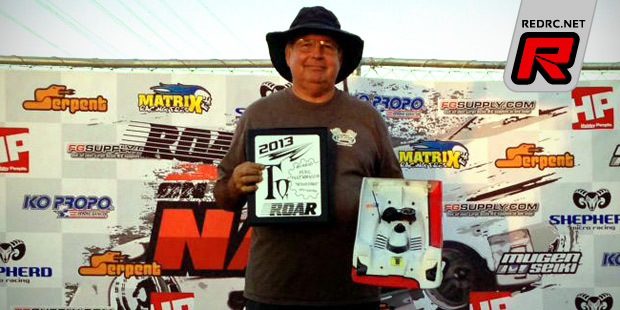 Masters class top 3 result:
1. Dana Smeltzer – Mugen/Picco
2. Joaquin Desoto Sr. – Serpent/Novarossi
3. Jerry Rapp – Mugen/Novarossi
Source: Picco [teampicco.com]
---