October 21, 2013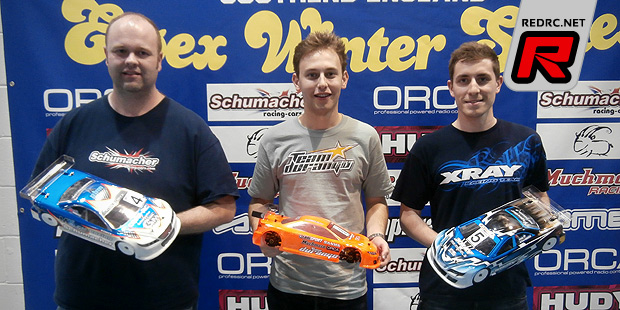 The third season of the Essex Winter Series got underway last weekend. The series had already attracted a maximum capacity of 120 entries for every one of the six-round series, with entries completely selling out within 4 hours of opening. This year saw the addition of the Modified Class, alongside the popular Pro Stock class for 13.5 turn motors and open speed controllers). The Stock class moved over to the now-standard 17.5 zero-timing format. As the racing got underway, all eyes in the premier Modified Class, which this year is sponsored by Muchmore, were on Euros podium finisher Elliott Harper, as he made his debut at a major carpet event with his Team Durango DETC410. Elliott showed that despite limited carpet testing with the prototype car, he had quickly got it dialled in as he topped every one of the four rounds of qualifying. Behind, the battle for second place was between Kyle Branson, best known for his on-road gas racing, Matt White and last year's EWS Pro Stock Champion, Paul Pinkney. Kyle took second in round one, ahead of Matt and Paul, whilst Paul was second in round two. Kyle found more speed in rounds three and four  to take the second place points to secure him second place on the A Final grid, with Paul ending third overall and Matt fourth.

In the A Final, Elliott continued his impressive run and disappeared off into the distance, not putting a wheel wrong and finishing up over nine seconds clear of the field. An incident on lap one between Kyle and Paul dropped them down the order, which allowed Matt up to second place and spend the entire five minutes keeping his Schumacher ahead of Phil Chambers' Xray. Matt did enough to hold off Phil to claim second overall.
Muchmore Modified A final result
1. Elliott Harper – Team Durango – 21/305.02
2. Matt White – Schumacher – 21/314.67
3. Phil Chambers – Xray – 20/300.13
4. David Bowen – Schumacher – 20/304.15
5. Chris Grainger – Schumacher – 20/304.74
6. Paul Pinkney – Schumacher – 20/309.16
7. Tim Hancock – ARC – 19/301.87
8. James Hart – Xray – 19/307.55
9. Brian Eldridge – TOP – 19/318.62
10.Kyle Branson – Yokomo – DNF
In the Schumacher-sponsored Pro Stock class, qualifying was as close as possible, with four different drivers TQing the four qualifying rounds. 2013 BTCC Champion Richard King took his Awesomatix to the fastest time in round one, whilst last year's EWS Pro Stock Runner Up, Tony Broad, went quickest in round 2 with his Yokomo. Round three saw Schumacher's Ashley Wiffen top the time sheets, and 2013 BRCA Pro Stock National Champion Zak Finlay was fully up to speed by found four and set the overall fastest time for Xray. Once the best two points were added up, Zak would start on pole for the A Final, with Tony second, Ashley third and Richard fourth.
Zak took off at the start of the A Final and started to pull a slight gap lap-by-lap over the chasing pack, as Tony and Ashley battled for second.  Ashley pulled a great move on Tony going into the final chicane to move up to second and set about after Zak. A few laps later, Zak got that same chicane completely wrong and dropped back into the pack. That meant the race for second now became the battle for the overall class victory, with Ben Putt quickly closing in and looking to capitalise on any mistake from the leading duo. On the penultimate lap, Ashley took one corner slightly too tight, causing his car to flip and Tony to move into the lead. Ashley landed on his wheels and just managed to hold off Ben as they raced the final lap.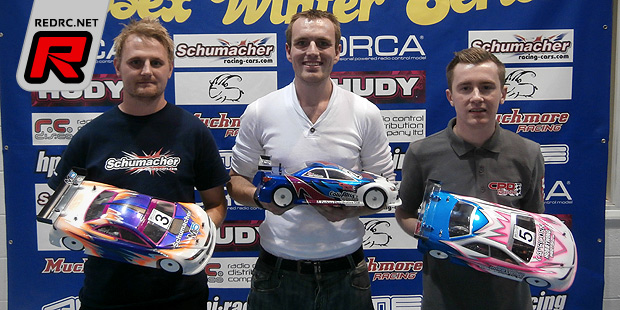 Schumacher Pro Stock A final result
1. Tony Broad – Yokomo – 20/304.70
2. Ashley Wiffen – Schumacher – 20/305.33
3. Ben Putt – Capricorn – 20/305.70
4. Reece Hodges – Xray – 20/306.22
5. Darren Lee – Schumacher – 20/309.88
6. Richard King – Awesomatix – 20/310.15
7. James Baker – Xray – 20/311.28
8. Zak Finlay – Xray – 20/311.50
9. Tim Langdell – Xray – 19/300.02
10.Daniel Veness – Xray – 19/310.71
The Capricorn Stock Class saw Luke Hobson, who had taken a break from racing since last year's EWS championship, return with a bang as he managed to TQ all four rounds of qualifying – perhaps even to his own surprise!However, he had to work for it as the field was extremely competitive and many drivers jostled for fastest time in each round. Richard Clarke took second in the first round, with Colin Gardiner taking second place in the other qualifying rounds, leaving Luke on pole from Colin and Richard.
The A Final saw Luke slowly build his lead lap-by-lap, as Richard got involved in a first corner incident and dropped down the field. This left Colin in a fairly comfortable second place, and instead the focus was on the race-long battle for third place between EWS Stock Class defending champion Mark Trinder and Matt Butcher. As time ticked by, Matt continued to pressure Mark until he managed to find a gap and sneak through to take the final podium place.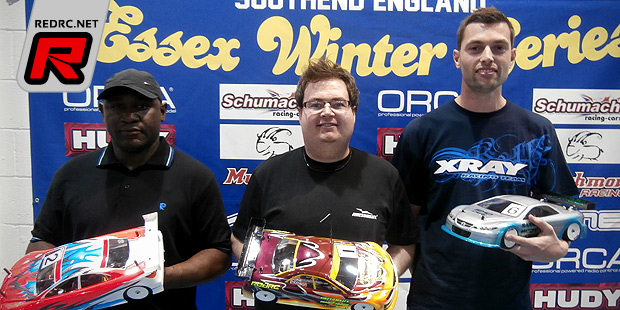 Capricorn Stock A final result
1. Luke Hobson – Awesomatix – 19/302.06
2. Colin Gardiner – Xray – 19/306.60
3. Matt Butcher – Xray – 19/308.11
4. Mark Trinder – Capricorn – 19/308.46
5. Gavin Clinch – ARC – 19/309.97
6. Nathan Morgan – Xray – 19/311.38
7. Darren Tickner – Spec R – 19/315.31
8. Mark Young – Awesomatix – 18/301.76
9. Richard Clarke – Awesomatix – 18/302.59
10.Steve Henry – Awesomatix – 18/302.99
The EWS Team would also like to thank their other primary sponsors, AME, ORCA, RC Disco, Hudy and HPI Racing, and of course all the drivers for attending and continuing to make the EWS the most popular indoor touring car series in the UK. The series continues with round two towards the end of November.
Thanks to Oli Meggitt for sending the report.
---