October 9, 2013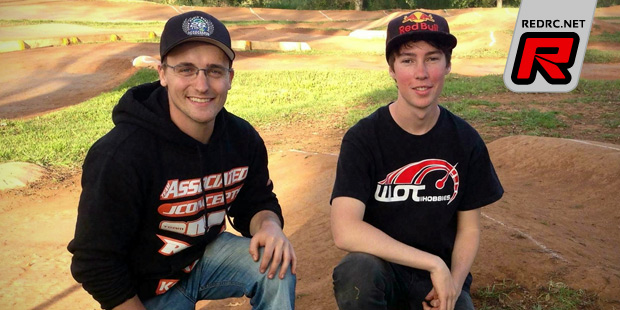 The fourth and final instalment of the 2013 Victorian Drivers Series was held at the regional club of Wodonga, 3 hours North of Melbourne. The small but dedicated track crew put together a track that was truly worthy of the term off-road. The sugar free blue groove track provided close and fast racing that left the drivers and spectators with smiles ear to ear. 4WD Open was well suited to the fast and open track. Qualifying was a clean sweep of B44.2's with Glen Bonetti at TQ, Paris in 2nd and Andrew Selvaggi in 3rd. Glen was able to take both A1 and A2 to take home the win followed by Andrew in 2nd and Leigh Cheeseman finishing 3rd.

The 2WD Open Class provided some of the closest racing of the day with the final result not being clear until the final lap of A3. Glen took Q1 and Ben Sterling Q2 which meant it came down to Q3. Ben managed the TQ but Andrew Selvaggi showed some blistering pace and was unlucky not to TQ the round. They lined up with Ben in TQ, Glen P2 and Andrew P3. A1 saw a freight train of the top 3 breaking away from the rest of the field. A very clean race with each tailing each other and never being split by more than a second. A2 saw Glen push Ben hard for 3 minutes but wasn't able to make the move until Ben clipped a curb costing him only a fraction of a second but enough to drop him back to second. Ben kept the pressure on but Glen held on to take the victory in A2 leading to an A3 showdown. A3 was arguably the most exciting race of the day with Ben and Glen once again waging an epic battle that saw several clean passes. Glen kept the pressure on until the last lap but Ben took the win and overall 1st with Glen Bonetti 2nd overall and Andrew Selvaggi 3rd.
SCT 10.5 saw a clean sweep for Glen Bonetti. He was fastest in all 3 qualifiers and gapped the field for victory in A1 and A2, he was never headed all day. Kyle Sanders came home in 2nd and Simon Healy 3rd. Truck 10.5 saw JConcepts' Scott Giles take the TQ and eventually the win. Andrew Adamic (T4.2) took the series win.
Source: JConcepts  [jconcepts.net]
---