November 25, 2013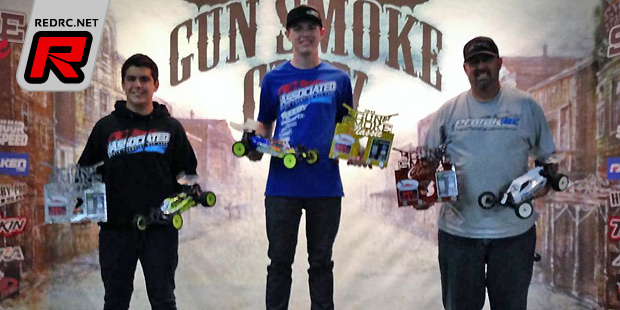 Inland Empire R/C played host for the 2nd Annual Gun Smoke Classic. With over 270 entries and 37 heats, the race was well attended by racers from across the Southwest. Qualifying got underway Saturday with three rounds of rocket-round qualifying that lasted from 9am past 9pm. When the final tone sounded it was Team Associated's Steven Hartson who dominated qualifying by taking the TQ in 2WD Modified, 4WD Modified and 1:8 Electric. Sunday morning brought about the lower main events where the top two finishers from each lower main advanced to the next main. The highlight here was Nick Wautlet, who bumped all the way from the 2WD Expert Modified Buggy D main to the A main event. As the A mains got underway, the track continued to evolve and challenge the racers to choose the best combination of tire and additive.

In the highly contested 2WD Expert Modified class, Steven Hartson took a comfortable win in A1, but things heated up in A2 and A3. In A2, Tanner Denney worked his way up to the tail of Hartson and with just a few laps remaining, Hartson crashed and broke-out, allowing Denney to cruise to the A2 victory and set a winner-take-all showdown in A3. Unfortunately for the newly crowned World Champ, Hartson, a failure again in A3 took him out of the main event, which put Denney in the driver's seat to claim the overall victory, which he did. After all three mains were completed it was a 1-2-3 Team Associated sweep with an impressive set of main events from eighth qualifier Kevin Motter to finish 3rd overall with Barry Baker finishing 2nd overall.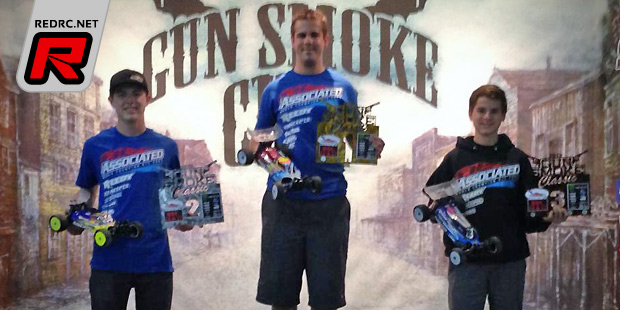 In the 4WD Expert Modified class it was again a showdown between Hartson and Denney, with Hartson getting the better of the 18-year-old Denney in A1 and A3 to take the title. Denney banked his two second-place finishes to earn second overall while fellow Team Associated teammate Spencer Rivkin finished third overall, completing the second podium sweep for Team Associated.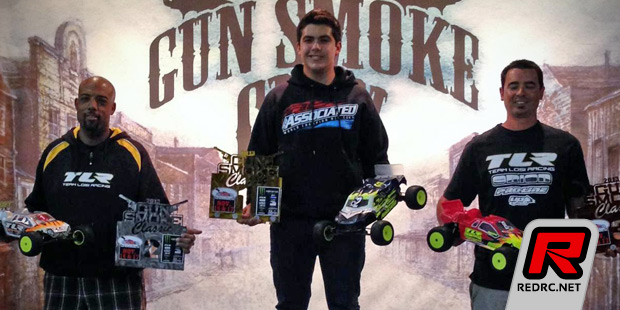 Riding his performance in the 2WD main events, Kevin Motter turned his second qualifying position in to victory in A1 and A2 of the Truck Modified class and secured the title with his T4.2 Factory Team.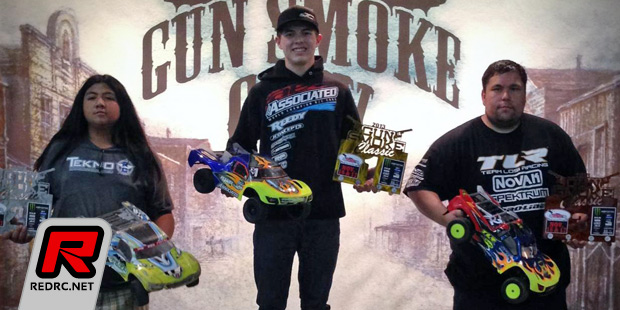 The victories just kept on coming for Team Associated as Tanner Denney and his Reedy-powered SC10.2 Factory Team started from the TQ position and won A1 and A3 to take the 2WD Modified Short Course title. In probably the most dominant performance of the weekend, Steven Hartson and his RC8.2e Factory Team cleaned up in the 1:8 eBuggy class. While setting lap times at over a second per lap faster than the competition, Hartson was in a completely different category than the competition.
Source: Team Associated [rc10.com]
---