November 16, 2013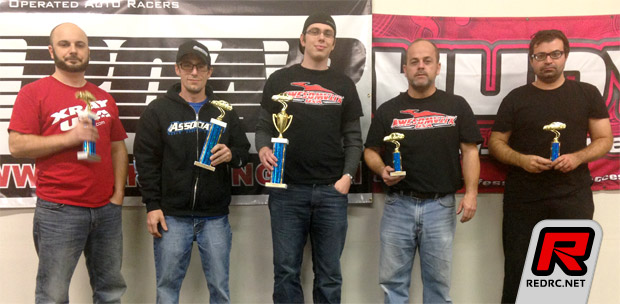 Last weekend saw the 1st annual Fall Classic held at Horsham RC Raceway, home of the 2013 R.O.A.R. Carpet Nationals. With over 75 entries the track was packed with some of the best talent in the country including 2011 Nationals champion Jeff Cuffs, 2013 IIC 1/12 TQ Donny Lia, Mike Gee and Jon Williams. With a total of 11 races per round, there was never a dull moment in the action and classes included VTA, 17.5 1/12, WGT, 1/10 TC mod, and their signature event 17.5 1/10 TC. In the A Main, fresh off his second place finish as the N.O.R.C.A.R. Halloween Classic Awesomatix team driver Mike Gee got out to the early lead followed closely the Donny Lia and Sal Amato in third. On lap 5 Lia was able to overtake Gee for the lead.  Lia and Gee put on an exhibition and some of the best competitive driving until Lia encountered an unfortunate body tuck leaving the door open for Gee to retake the lead and dropping Lia to fourth place. This caused a reshuffling in the top three divers running order of Mike Gee 1st, Jeff Cuffs 2nd and Jon Williams 3rd. Lia made a great effort to recapture a top three podium postion baring down on Williams for several laps however, Williams was able to hold on to third.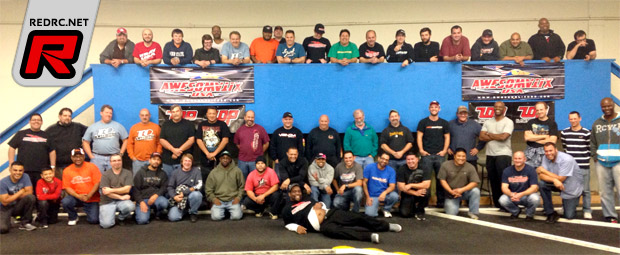 Finishing order:
1. Mike Gee 35/6:610
2. Jeff Cuffs 34/6:04
3. Jon Williams 34/6:06
4. Donny Lia 34/6:609
5. Danny Jenkins 33/6:00.128
6. Sal Amato 33/6:00.391
7. Barry Lofton 33/6:01
8. Ray K 33/6:04.035
9. Al Sodano 33/6:04.941
10.Jerry Perez 33/6:08
Thanks to Oladele Bolden for the report.
---