December 18, 2013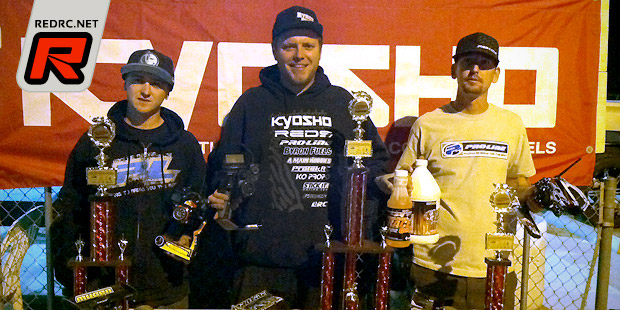 The 2013 Kyosho Buggy Classic was held this past weekend at Revelation Raceway in Ontario, CA. This annual 1-day event was also combined with Rev's Toys for Tots Drive that would bring in just under 100 entries. With perfect weather conditions all day, it made for a great day of racing. Two 5 minute qualifiers would be ran using the Rocket Round format. This would take each drivers single fastest run to determine the overall qualifying order. After qualifying was complete, it was Kyosho Factory Driver Cody King who would take the TQ honors by just 1-second ahead of TLR's Adam Drake. Kyosho's Drew Moller showed good pace in the 2nd round of qualifying to move up to 3rd overall.

The 1/8 Pro Buggy A-Main Event would be the last race of the day and under the lights. At the start of the 25 minute A-main, the top 3 drivers were all shuffled to the back of the pack. This left Agama's Jeremy Kortz out front with a huge lead and Mugen's Colin Herzig not too far back in 3rd. At this time King was running 8th and already 10 seconds out of the lead. As the main event continued, many of the top drivers began falling out one by one. Drake was out first just after 4 minutes of racing. Then Castellano would suffer from an engine issue close to the 9 minute mark. Next Moller was out at the 13 minute mark with electrical problems and this left the top 3 positions wide open. Meanwhile Cody King had been reeling in on the leaders who he had now caught. King made it by Herzig and then a few laps later by Kortz. King then went on to extend his lead and take the win by over 12 -seconds. Herzig put on a good charge to finish 2nd and Kortz would round out the podium in 3rd. Elsewhere in the Open Buggy class privateer Ryan Reese brought home the win with his Kyosho buggy.
1/8 Pro Buggy top 12
1. Cody King – Kyosho
2. Colin Herzig – Mugen
3. Jeremy Kortz – Agama
4. Colby Poh – Kyosho
5. Ricky Racer – Kyosho
6. Shaun Kirkman – Team C
7. Sean Gaffney – Kyosho
8. Brian Givens – Kyosho
9. Ronda Drake – TLR
10.Drew Moller – Kyosho
11.Matt Castellano – Kyosho
12.Adam Drake – TLR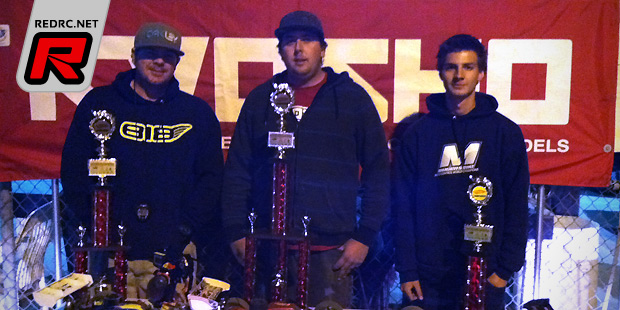 Thanks to Joe Pillars for sending the report.
---