December 9, 2013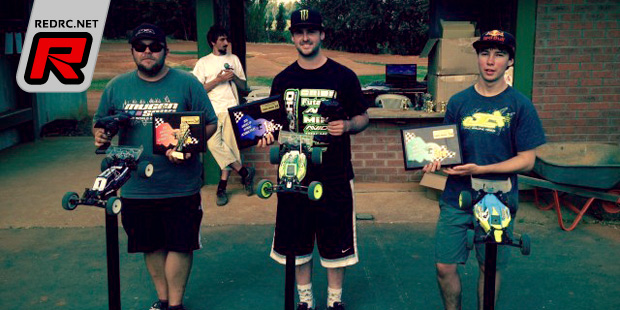 The 2013 Victorian State Titles for EP 1/10 off-road started with controlled practice on Friday and culminated in the finals run on Sunday. In the first 2WD modified A-main TQ Matt made a mistake in the second lap allowing Ben and Ash to get by. Both drivers then battled for entire leg swapping positions several times and at the end it was Ben who passed Ash at the triple handing him the leg 1 win although his contender tried another move on the Kyosho driver. A-main number 2 had Matt taking the win while elsewhere Ben got hit multiple times only allowing him to finish 7th in the run.

The third final would then bring the decision. After dropping to 5th place after his own mistake Ben worked his way up taking one position after another allowing him to take the second position just behind Matt. With only two laps to go Ben caught onto the back of him and he made a mistake over the triple. Ben again followed him for another lap and made a pass up the inside of the triple and took the lead. Matt attempted to make a pass at the next corner but could not complete it. With one lap to go Ben held him off and made a slight gap. Matt made one last attempt to pass over the quad on the straight and crashed. This handed Ben the leg win and the overall title 2WD modified title.
Thanks to Kyosho Australia for sending the report.
---