January 21, 2014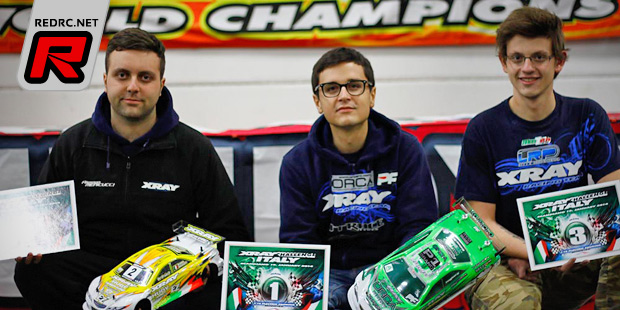 The first Xray Challenge of 2014 was held at the RC Landia facilities of Team La Gang, in Scandiano, Italy. The race was sold out quickly after the entry was opened and a total of 120 drivers attended in three classes. Open practice started on Friday, whereas the race commenced on Saturday, with 5 qualifying rounds for all drivers, and triple finals. In Touring Car Modified Xray's Alexander Hagberg won all rounds in front of Alessio and Martin, and he also set TQ in the 1/12 category in front of fellow Xray drivers Massimo Fantini and Marek Cerny. In the Touring Car Stock class, Xray took a 1-2 as well with Marek Cerny on the top spot followed by Mattia Collina.
Later Alexander went on to win all finals in both classes he attended. In Modified, the close fight for the remaining podium positions came down to A3. After an early mistake from Alex, he dropped to 4th position. Alessio, Martin and Niklas were fighting for the lead. After some laps, Alexander was fighting with Alessio for 2nd when both came together. In the events that followed, Martin Hudy cut the track following a body tuck, which would later lead to a time penalty. Martin crossed the line first but Alex won the final in front of Alessio and Martin.
Modified top 10:
1. Alexander Hagberg
2. Alessio Menicucci
3. Martin Hudy
4. Michele Romagnoli
5. Francesco Martini
6. Niklas Johansson
7. Alessandro Ciaccheri
8. Fabrizio Manicardi
9. Alessandro Brunelli
10.Luca Toreggiani
In 1/12, he had a comfortable margin to the others. Massimo finished 2nd and Marek 3rd in the 1/12 class. Michele Romagnoli and Francesco Martini completed the top 5 result.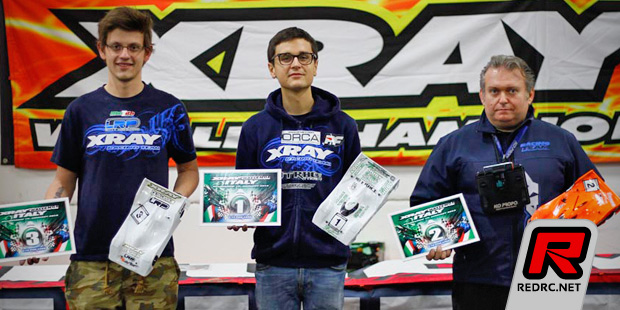 1/12 top 10:
1. Alexander Hagberg
2. Massimo Fantini
3. Marek Cerny
4. Claudio Codazzi
5. Francesco Tironi
6. Alberto Tedeschi
7. Alessandro Bianchi
8. Giacomo Piavani
9. Mattia Rinaldi
10.Marcello Galli
In the Stock class, the finals proved to be very exciting, with close fights for the lead all throughout. In the end Marek Cerny managed to win with a small margin in A1 and A3, 2nd place was awarded to Nico Catelani, followed by Mattia Collina.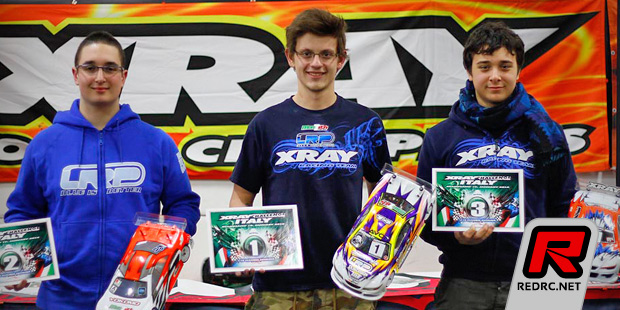 Stock top 10:
1. Marek Cerny
2. Nico Catelani
3. Mattia Collina
4. Alessio Tolomelli
5. Edoardo Repetti
6. Stefano Rabitti
7. Andrea Retrivi
8. Michele Scaglioni
9. Nicola Fornasari
10.Simone Leonardi
Source: Xray [teamxray.com]
---