February 15, 2014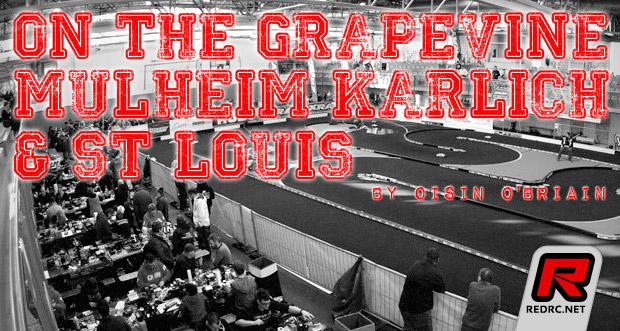 After the glamour of the Reedy Race of Champions thanks to the welcomed presence of Monster Energy and their easy on the eye female employees, it was always going to be a near impossible act to follow for the next few races I would be attending. Flying back from California, with a day off before heading to Round 2 of the Yokomo Euro Touring Series, I would receive an e-mail that while not bringing much glamour to the race would certain excite R/C fans all over the world. As press officer for the ETS, Yokomo had given me the go ahead to officially announce that they had signed to their touring car team r/c super star Atsushi Hara with part of his deal being to contest the ETS. With so much talk and rumour as to where or what Hara would do, it was very exciting to be able to let the world know that for the class in which he won his first world title and in a world championship year he was signing with Yokomo, the same manufacturer with whom he won that 2000 title. As press releases go sitting down to type up the announcement was by far the easiest one I have had to write yet for the series.

In addition to buzz created by Hara racing on carpet for the first time since 2011, Round 2 of the ETS in Muelheim-Kaerlich would also draw an air of excitement among competitors due to the fact that the series' 35th race would be its biggest yet. Hanging banners on Thursday evening I noticed that track building seemed to be a new spectator sport as a large number of the record 320 individual drivers (361 entries) hung out in the hall ahead of the race. A man with a much greater knowledge of the sport than most, Scotty Ernst, reckoned the race was right up there, including the heyday of electric touring car racing, to lay claim to being the world's biggest ever touring car race. To put the size of the entry in perspective, how many out their can claim to have won a T-Main. A 12 car final, as they tried to save time with all drivers getting triple mains, they could have actually run a U-Main in the Xray Pro-Stock class. One impressive feat of the weekend, thanks to planning of ETS timekeeper Hartmut Wenzel, was that despite the massive entry it would the first ETS event to finish ahead of schedule, the closing third A-Main of Ride Modified class starting three & a half minutes ahead of the timetable. On track the weekend would be all about the performance of Alexander Hagberg, the Xray driver dominating from the free practice through to wrapping up his second ever ETS victory with a win in A2. Great for the championship to see Yokomo finally beaten on carpet, I can't remember the last time I heard rivals compliment so much the performance a driver with the word 'impressive' being used a number of times to describe Alexander's driving. Even Marc Rheinard, a driver who has had confrontations with Swede in the past, could not refrain from praising his performance.
******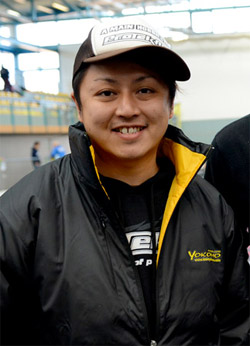 While Hara had confirmed a touring car program with Yokomo for 2014 in the lead up the event, on the opening day of the race, Friday, a second and more significant announcement regarding his long term future would be made. Speedmaster Hobby Company, the company behind SWORKz, had signed Hara on a three year full time deal taking on the role of Team Brand Ambassador for the company bringing to an end months of speculation as to were the 2008 1:8 Offroad World Champion would go following his shock departure from HB. Judging by some of the reactions to the announcement, for many it was a bit of an anti-climax to the what has been biggest driver news story seen in a number of years. Not taking anything from SWORKz but they are not exactly a household name or one which you expect to land a driver of Hara's star status. Although its 14 years since he won his first world title, Hara is still at the sharp end of his game as he has proven by finishing on the podium at the last four World Championship he has contested. This record is all the more impressive for the fact they were all very different disciplines. Although he would only qualify for the B-Main at the ETS, making the A-Main among such a competitive field a tall order for any driver who hasn't raced on carpet for 3-years, how big a following Hara has is very clear to see. Such is the respect for him both on & off the track, when he made a pass on BQ Steen Graversen, in true Hara style, to move into the lead onlookers responded with the largest cheer of the weekend. Chatting with Hara about his deal he was very honest about his future. Admitting that he wont be fast forever, he said his new deal is the start of a new chapter for him and one which he is really excited about. Having made a living solely from his skills as a driver he said the deal will see him get more involved in other aspects of the industry something that from previous conversations I get the impression was one of the reason's behind his HB departure. Talking about his new role he said he doesn't want to only to develop competition cars, apparently a touring car is not on the cards hence how he was able to sign with Yokomo, but he wants to bring completely new ideas to the hobby that make it more accessible to the novice racer. Hara has previously shared openly his views that what is on offer to the customer today is both too technical and too fast and he views this as being a barrier to getting fresh blood into the hobby. Admitting that he doesn't have a 'magic' concept for such a car he said it has got to be found as at the moment there is just one dish of dog food from which a lot of dogs are eating and if we don't do something that provides a starting point for beginners soon we will start seeing dogs dying from hunger. I think that's a rather good summary of the state of our industry which in 2013 suffered quiet a significant downturn globally.

In terms of other potential deals, Hara did have a very tempting offer from Xray should he have wished to continue as being a true Pro Racer. The Slovakian manufacturer had regular contact with Hara since his services came up for grabs and I know from previous chats with Hara he was impressed by their dealings and what they had to offer. He feels the deal he has chosen is best for his long term prospects although he admits that maybe like any new relationship after three years they will discover they are not meant for each other. It was nice to hear that ahead of the announcement with Speedmaster Hobby Company, Hara had the courtesy to inform Xray that he would not be taking up their offer.
******

After the ETS it was off to a very cold St. Louis in Missouri for the opening round of the JConcepts Indoor National Series. Even with the weather reaching -20 C it couldn't break the determination of 4WD Electric Offroad World Champion Steven Hartson to rock his shorts. Waiting on the Californian and Brent Thielke, Steven arrived in shorts and while the chill left me with pains in my face in the mornings he went the entire weekend in shorts. Needless to say he did get some strange looks when we went out to eat at night. While the cold didn't kill us some drivers certainly made a good effort with the tyre additive they felt necessary to use so as to get optimum performance. SmacTrac is a small venue with a low roof yet despite the bottles of toxic smelling additive I looked at clearly carrying a warning on the label to only use in well ventilated areas some racers felt their speed was more important than the health of fellow racers. Making the trip to the race with his family, the fumes would lead to 2WD World Champion Jared Tebo packing up only a few hours into the event. Debuting a lovely new trailer he had built for the upcoming nitro season, 1:8 Worlds Finalist Josh Wheeler said while he only brought the trailer to test everything worked he was glad he did as he didn't have to sit in the heavy fumes all day. I said last year that unless the track banned the use of smelly additives I wasn't going back, this year I am putting it in writing. As Eoghain pointed out to the track owner Scott McDonald at the end of the event, if a parent had come to the track with a child with a view to taking up the hobby, on opening the front door and being hit by the fumes they would mostly likely have just turned their back not just on SmacTrac but r/c racing. I'm pretty sure had a health & safety officer paid a visit the place would have been evacuated. Certain bottles on opening lead to those in surrounding area to start coughing leading to us referring to it as a bottle of 'Lung Rapist'. Interestingly the higher we got up the finals on Sunday the less toxic the pits smelled!! In fairness to Scott who is keen to improve all aspects of what he offers the local racing community he took onboard our point about the additive so hopefully we will be back to cover the JConcepts Winter Indoor Nationals for a third time.
******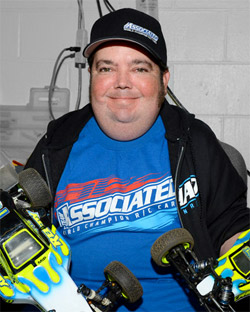 When I first got involved in RC racing to get your fix of new r/c products and reports from the big races you had to go to your newsagents and buy magazines because like LiPo batteries and brushless motors the internet had yet been invented (no I'm not that old). Waiting patiently for each month to pass it was probably the adverts and one certain driver in them that was the most memorable thing for me. That person was a certain Brian Kinwald – the 1993 & 1997 2WD Electric Buggy World Champion. The star of ads with his name on motors, among my r/c acing friends there was no doubt in our minds this kid was a millionaire. Telling Brian this, his long time friend and now tyre sponsor Jason Ruona said if he made a million then he invested it all in Baskin-Robbins ice cream!! I have meet Brian at various events but until the weekend I had not had the chance to be in his company socially and that is always when the best stories get told. Having been into soccer and BMX it was through illness that stopped him from doing those sports that Brian first got interested in r/c cars. Having seen kids on his street with r/c cars he asked his dad for a Tamiya Frog. Going to a proper r/c hobby shop his dad ended up getting him full competition level outfit but on his return home with the AYK Buffalo buggy, Brian was unimpressed to say the least because it wasn't a Frog. To make matters worse he also bought a stick radio to go with it when he wanted a 'cool steering wheel radio'. His sulking would quickly turn to euphoria though when he ran the buggy for the first time and discovered just how far he could get it to jump.

Having heard talk of the great battles between Brian and Mark Pavidis it was interesting to get his take on the old days which he simply described as 'intense'. He said what made the rivalry so intense was the fact that nothing back then had yet been developed to its full potential and having a new thing on your buggy was a big deal and surrounded in secrecy with each team trying to find out what the others were working on. While he said main stream sports could capitalise on such rivalries to build up audiences it did little to benefit the hobby. Also adding to the tension was the fact that Brian was bought from under Team Associated's noise when Losi & Trinity combined financial resources allowing him to become r/c's first paid pro driver. The move 'freaked a lot of people out' but he said who wouldn't have taken such an offer to get paid to race r/c cars. Traveling to races with a celebrity like entourage Brian said it was Trinity that made him the big star I and other magazine readers around the world saw him as. Making Brian the face of all their adverts he appeared in magazines all around the world before the dawn of the internet. It was Trinity that also came up with the 'Dirtinator' nickname a play on the Terminator movie title and Brian still proudly runs this as the license plate on his road car. Acknowledging the key role Mike Reedy played in getting him to the top of the sport, adding that the pioneer of our sport had a good eye for picking out talent, Brian said he still enjoys the racing as much today as he did when he was World Champion and still gets the same buzz every time he gets up on the drivers stand. Brian, who will have his 1993 World Championship winning RC10 kit re-released shortly said nowadays new drivers can get better faster because it so much easier to get the stuff they need as its now available to everyone. Interestingly talking about getting newcomers into the hobby, Brian said we do a 'terrible job' of getting the sport out there but added usual when something gets big everyone jumps on the bandwagon which could bring its own issues.
Have an opinion on the topics discussed? Leave them in the comments below.
Oisin O'Briain is Red RC's Event Editor. Traveling the world reporting on some of the biggest races in the sport he regularly chats with top drivers and key industry figures and in his new column 'On the Grapevine' he will try to bring readers an insight into the latest talk that is doing the rounds in the paddock along with the odd bit of trivia information that comes to light.
The views and opinions expressed in this column are those of the author.
---