March 4, 2014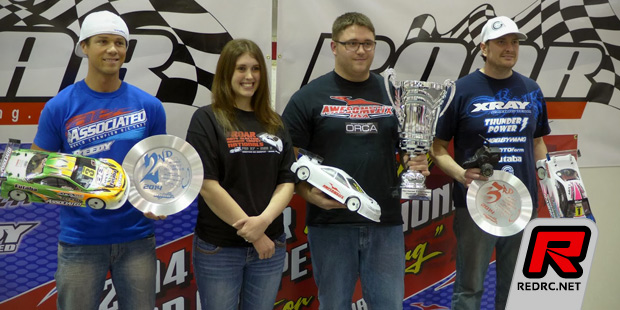 Beside 1/12th scale pan car racing the 2014 ROAR Carpet On-Road Nationals, held at the HobbyTown USA HobbyPlex in Omaha, Nebraska, also had a lot of touring car action to offer. Paul Lemieux (Xray) would TQ the Modified class by less than 0.5 seconds over Kody Knudtson (Awesomatix). Filling out the top five would be Keven Hebert (Associated), Josh Cyrul (Awesomatix) and Andrew Doherty (Xray). In A-main 1 Paul Lemieux would run away with the win, allowing for a tight battle between Kody, Keven and Josh for 2nd. Paul would cruise to the win, with Kody and Keven following.

Come A2 Paul Lemieux again lead from the tone, with Kody, Keven and Josh in toe.  Kody would tap, allowing Keven to pass for 2nd. Keven would then start to challenge Paul, and finally get by Paul on lap 14 – and opening the door for both Kody and Josh to pass Paul. Kody and Josh would exchange 2nd place a few times before Kody would retain the position. The finishing order then was Keven, Kody, Josh and Paul. Kody and Josh would hold the fastest laps of A2, so everyone expected some excitement in A3. With two different winners in the prior mains, and Kody with two 2nd place finishes, three racers had the opportunity to win.  Paul Lemieux was again out in the lead with Kody, Keven and Josh in hot pursuit. On lap 17 of the race Paul would tap in the chicane leading onto the straightaway allowing Kody to take the lead. Kody would only hold the lead for a lap before tapping out himself, but he could recover quickly. Kody continued to apply pressure on Paul until lap 25 when Paul would have his second board meeting with the chicane allowing Kody to rocket into the lead. Paul would fall back to to 3rd and work to case down Keven Hebert. Kody didn't back off the pressure as he would set the hot lap of the race on lap 35 and crossed the finish line with a 1.5 second lead of Keven. This handed Kody the overall win from Keven and Paul.
Modified Touring Car Top10
1. Kody Knudtson
2. Keven Hebert
3. Paul Lemieux
4. Josh Cyrul
5. Rick Hohwart
6. Cody Woods
7. Andrew Doherty
8. Andrew Ellis
9. Christopher Hillier
10.Jake Danilchik
The 17.5 TC class had one of the closest girds with the top 6 drivers all recording 36 laps. The father-son team of Brent and Kyle Klingforth would put the field on notice by qualifying 2nd and 1st. Eric Anderson would qualify 3rd with his Xray while Bill Sydor qualifying 4th and Art Scrimo 5th making it four Awesomatix drivers in the top 5. In A-main 1 Kyle would lead form the tone, with Brent, Eric and Bill all following. The top three would separate out over the course of the run, but finish in that order.  Art Scrimo would rally after a rough start and finish 4th overall. In A2 Kyle again would lead, with Brent and Eric in close pursuit. Kyle would have an easy race after Brent and Eric had some taps up front. The top 5 qualifiers would finish in that order and Kyle Klingforth would tie up his National title. With Kyle sitting out the final A-main, Brent Klingforth would lead from the tone easing away from Eric over the course of the run.  This made for a 1-2 finish for the Klingforth family, Eric Anderson finished 3rd to complete the podium.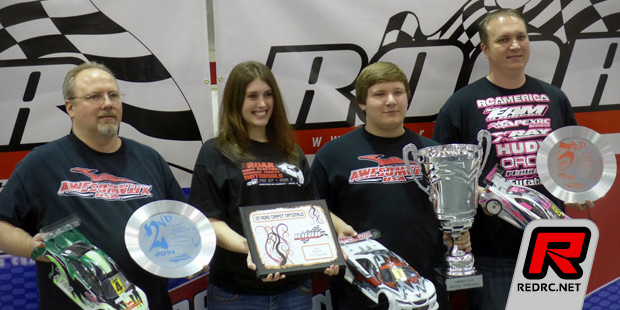 17.5T Touring Car Top10
1. Kyle Klingforth
2. Brent Klingforth
3. Eric L.Anderson
4. Arthur Scrimo
5. Tim Copp
6. Michael Jones
7. Bill Sydor
8. Keith Yu
9. Chris Kemper
10.Dan Hamann
In the 13.5T class Drew Ellis (Xray) would take TQ honors by 4 seconds over Kyle Klingforth (Awesomatix), and Eric Anderson (Xray) all with 37 laps. In A1 Drew would lead from the start, but a few laps into the race his car spun out in the sweeper allowing Kyle to get into the lead. Drew would drive hard through the pack as Kyle would tap out of the lead on lap 25 allowing Drew to take over the lead. The top 3 qualifiers would then finish in that order. Coming A-main 2 Drew had a cleaner start this time and never give up the lead. Kyle and Eric would swap 2nd and 3rd because of taps throughout the run. Finally near the end of the run Brent Klingforth would rally past Eric after a top to finish 3rd and Drew Ellis took the 13.5T National Championship. With Drew sitting out of A3, Kyle would lead from the tone. Kyle tapped on lap 3, and allowing Eric to get by only until returning the favor on lap 4. Kyle would drive uncontested for the rest of the race, with Eric finishing 2nd, and Tim Copp in 3rd from a 6th starting spot.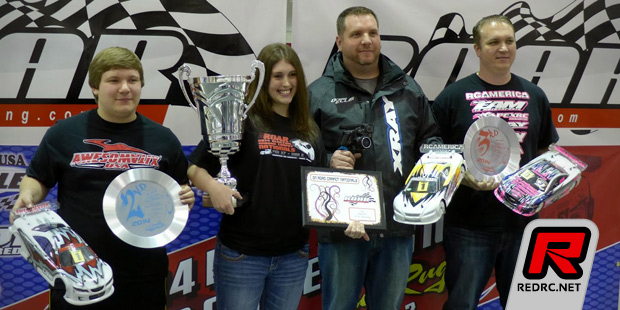 13.5T Touring Car Top10
1. Andrew Ellis
2. Kyle Klingforth
3. Eric L.Anderson
4. Brent Klingforth
5. Tim Copp
6. Michael Jones
7. Arthur Scrimo
8. Brock Witmer
9. Bill Sydor
10.Jake Danilchik
Source: Awesomatix [awesomatixusa.com]
---