March 15, 2014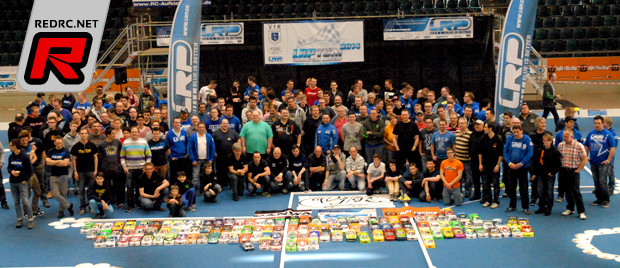 Today the 17th running of the LRP Touring Car Master got started in Rüsselsheim, Germany and LPR sent us the following report. Today, two rounds of free practice, two rounds of timed practice and the initial round of qualifying were on the schedule. Free practice in the Masters class saw Marc Fischer ahead of Yannic Prümper and reigning LRP TCM champion Ronald Völker. In Open Stock, Jan Ratheisky confirmed his pace with a gap of one second over 3 consecutive laps to Oliver Franke in second spot.

The fastest drivers in Timed Practice 1 of the Masters class were Yannic Prümper and Ronald Völker, both pulling 19.7s laptimes. In third place Freddy Südhoff (Awesomatix) was only the third driver to join the 19s club. In timed practice 2, it was again Ronald Völker who upped the pace a bit and finished 0.2s ahead of Yannic Prümper. Now sitting in 3rd place Dominik Fleischmann makes it a 1-2-3 for Yokomo at the moment.
In the 10.5T Stock class, Jan Ratheisky with his Xray was the fastest man in timed practice one. But the guys behind him were closing in. Oliver Franke (Awesomatix) posted a personal best lap close to Jan and is only 0.2s behind him over 3 consecutive laps. Also Andreas Myrberg with his Xray is on pace being third after timed practice. In TP 2 we saw Marek Cerny in better shape. He is now topping the time sheets. He changed from a Protoform to a Montech body and also went for a different traction compound. His Xray worked well and he could set a new fastest time for 3 consecutive laps. But it was a really close fight, as Jan on second spot is only 0.017s behind. With a gap of 0.2s, there are Oliver Franke and Andreas Myrberg on third and fourth.
Racing in the 17.5T Challenge is really close. After timed practice 1, the top 10 guys were only separated by 1.2 seconds over 3 consecutive laps. In timed practice 2, Daniel Anthes and Tim Kuntz set the pace only separated by 0.17s. Johan Thiersch is on third place. Behind him, there are again 10 drivers within only 1 second.
Patrick Greinke is the fastest Classic Challenge driver again and looks like the man to beat for the first qualifiers. In timed practice 2, Frank Holz did a good job and came up to only 0.4s to Patrick. The fastest Rookie in TP1 was Nico Müller ahead of racing lady Laura Pollert. In timed practice 2, it was again Nico Müller who drove the fastest three consecutive laps but Laura Pollert was really chasing him with a small gap of only 0.4 seconds.
In qualifying round 1, really close and exciting racing was presented in the Masters class. In the beginning, it was Ronald Völker who took the lead, closely followed by Yannic Prümper and Marc Fischer. Half way trough the run, it was Alexander Hagberg who came up on the second place and chased Ronald really hard. At times both where only separated by a few thousandth of a second. Freddy Südhoff recovered from a small mistake and fought his way back to third place. In the last lap, Alex made a small mistake and Freddy took the second spot behind Ronald.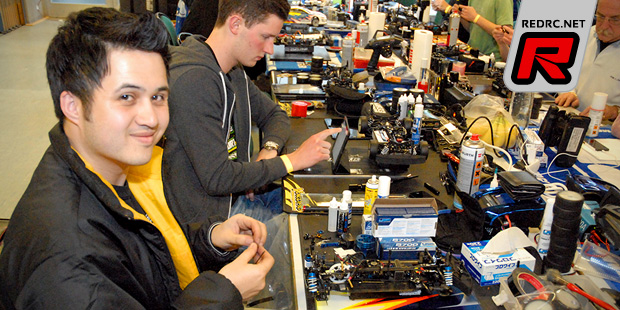 Modified Qualifying Round 1
1. Ronald Völker – Yokomo
2. Freddy Südhoff – Awesomatix
3. Alexander Hagberg – Xray
4. Viljami Kutvonen – Awesomatix
5. Yannic Prümper – Yokomo
6. Marc Fischer – Serpent
7. Dominik Fleischmann – Yokomo
8. Michal Orlowski – Durango
9. Steven Weiß – Xray
10.Dionys Stadler – Awesomatix
The 10.5T Stock class saw a close battle between the three top guys. From the start, it was a lead of tenth of a second for Marek Cerny. He was followed by Jan Ratheisky and Oliver Franke. In the end, it was Oliver with his Awesomatix who could catch up to Marek an Jan who both had small mistakes at the end of the run. Oliver took the TQ run, Jan finished second and Marek took the third spot.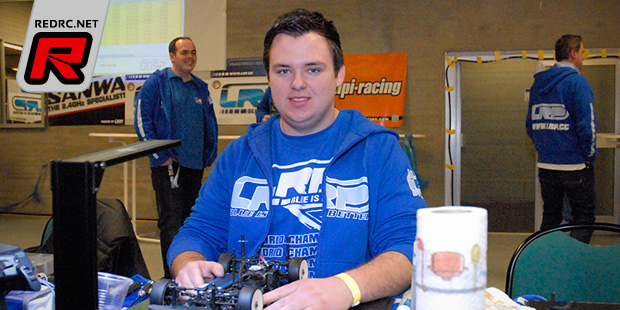 10.5T Stock Qualifying Round 1
1. Oliver Franke – Awesomatix
2. Jan Ratheisky – Serpent
3. Marek Cerny – Xray
4. Andreas Myrberg – Xray
5. Bernhard Bopp – Hot Bodies
6. Jan-Phillip Staab – Hot Bodies
7. Christoph Thiele – Hot Bodies
8. Thorsten Zorn – Schumacher
9. Jan Bickendorf – Xray
10.Steffen Leinburger – Awesomatix
Daniel Anthes was again the fastest driver in the 17.5T Challenge. He drove his Serpent to a never defeated victory in Q1. Even a small mistake in the penultimate lap did not put his TQ run at risk. Tim Kunz with his Xray was the only driver who could achieve a similarly fast lap like Daniel but did not make it overall and had to settle with the second place. Third place went to Johan Thiersch, the last driver who managed 14 laps within the five minutes run with his Awesomatix.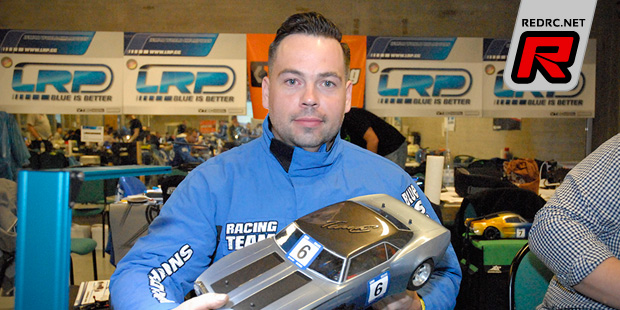 Starting from 6th on the grid, Patrick Greinke set the fastest lap in Q1 of the Classic Challenge. He took the lead on the second lap and never looked back. Second place went to Frank Holz who had to recover from a bad start lap and Erwin Kruse who also had flipped his car in the beginning of the heat arrived third. Today, these three drivers were clearly the fastest Classic guys on the track.
In the Rookie Challege, Nico Müller took an easy line to line victory. Second place went to Karsten Schneider. Young racing lady Laura Pollert had a little trouble in the middle of the race and lost a few seconds. In the end, she finished third.
A special highlight of this year's LRP TCM is the World's longest indoor straight on carpet. Everybody was curious about the top speed that drivers would reach on this 45m long straight. At the moment, the record speed is at 99km/h.
Source: LRP [lrp.cc]
---