April 19, 2014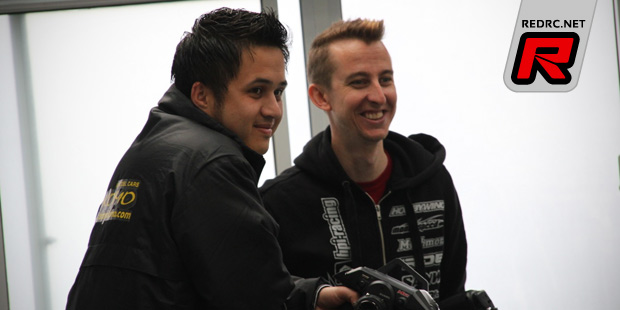 With a morning filled with 3 full rounds of practice, racers were able to really dial in their cars, drop their lap times, and kick up their consistency. Times in the 11-12 second range were common in the stock class, while 1/12th scale and modified sedan were able to dip the times below the 10 second mark.  Staying focused on the tight and twisting layout is the key to success as the track will reach up and bite you if your attention wains.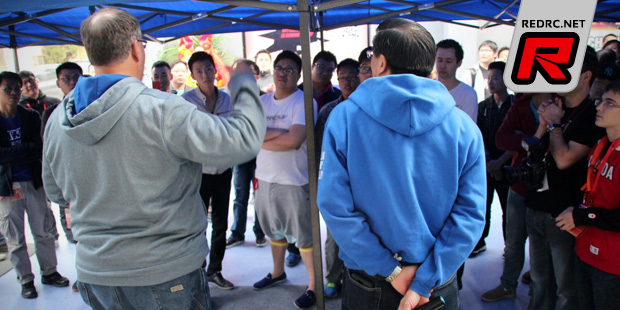 The days racing at AOC Shanghai is in the books and it was a great one. The consistency that the drivers and the track has shown is amazing. Very few drivers changed more than a couple of seconds between the 2 rounds that were run today. Team Yokomo's Ronald Volker bested the field in the Premier Modified Touring class with the days only 31 lap 5 minute run followed by Hot Bodies Andy Moore with a 30 5:04.
Modified Touring
1. Ronald Volker – 31 5:07
2. Andy Moore – 30 5:04
3. Ma Da Wang – 30 5:06
4. JJ Wang – 30 5:08
5. Rocket – 29 5:08
6. Samuel Chue – 28 5:00
7. Guo Yao Wei – 28 5:00
8. Derek Hung – 28 5:02
9. Lee Chun Fai – 28 5:08
10.Joe Lo – 28 5:08
Local hot shot JJ Wang of Hot Bodies topped the 1/12th Modified class closing in on a nearly 50 lap run with a 49 8:02, but dropped to 4th in Modified Touring when Ma Da Wang threw it down with a 30  5:06. In Super Stock 13.5 Touring Salton Dong is taking no prisoner and put everyone down a lap with a dominate performance of a 28 5:00. The battle is much tighter in Formula 1 with Stick King and Tsutoma Arakawa separated by only one second with Stick King finishing with a 26 5:06. In the 1/12th stock class Heng has put himself on top with a 38 8:12. 17.5 Touring has put on a show with multiple drivers battling each other only seconds apart.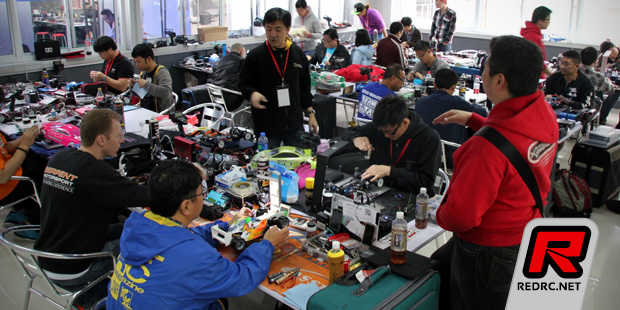 Tomorrow's action begins early and will consist of two more rounds of qualifying, followed by a Traditional Chinese ceremony commemorating the Grand Opening of the Brand New RCI V2 racing facility.  After the celebration the racers are all in for a bonus with all classes and mains being treated to triple finals.
Super Stock Touring 13.5
1. Salton Dong – 28 5:00
2. Jones Chu – 27 5:05
3. Steven Pai – 26 5:00
4. Jimmy Qian – 26 5:03
5. Wu Kong – 26 5:04
6. Ding Fang Jie – 26 5:04
7. Xiao Fu – 26 5:08
8. Chen Jie – 26 5:11
9. Qiu Jia Yu – 25 5:02
10.Zak – 25 5:03
11.Martin Skarin – 25 5:07
12.Tang Yao Guang – 25 5:07
Stock Touring 17.5
1. Jia Jing – 25 5:12
2. Chris Lee – 24 5:04
3. Gu Jia – 23 5:12
4. Mi Ka – 22 5:04
5. Xiao PP – 22 5:16
6. Gu Du – 21 5:05
7. Ringo – 21 5:11
8. Dominic Kan – 19 5:09
9. Guo Tong – 19 5:11
10.Aka – 16 5:06
Modified 1/12th
1. JJ Wang – 49  8:02
2. Ai – 45  8:00
3. Fabio – 43  8:11
4. Chen Jie – 17  3:18
1/12th Stock
1. Heng – 38 8:12
2. Chris Liu – 37 8:00
3. Gu Jia – 36 8:05
4. Tang Wang – 35 8:08
5. Xiao Bao – 34 8:12
6. Zha Dan – 33 8:04
7. Xiao PP – 2 0:50
Formula 1
1. Stick King – 26 5:06
2. Tsutoma Arakawa – 26 5:07
3. Joe Lo – 25 5:12
4. Martin Skarin – 24 5:06
5. Jimmy Qian – 24 5:10
6. DOM – 23 5:09
7. Per-Ola Hard – 22 5:01
8. B G – 21 5:00
9. Benlai – 21 5:08
10.Scott – 20 5:10
11.Rave – 17 5:11
Source: AOC [aocrc.com]
---